---
---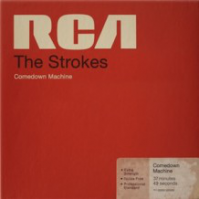 Formats
---

---

RTRADLP730

Long Player

£15.00
Label
---
Comedown Machine
---
The Strokes are to release their highly anticipated fifth studio album 'Comedown Machine' via Rough Trade Records.
The Strokes consist of Julian Casablancas (lead vocals), Nick Valensi (guitar), Albert Hammond, Jr. (guitar), Nikolai Fraiture (bass) and Fabrizio Moretti (drums).
The New York band have released four studio albums, 'Is This It' (2001), 'Room On Fire' (2003), 'First Impressions Of Earth' (2006) and 'Angles' (2011), which have sold over 5 million albums worldwide.
Discussing the recording of 'Comedown Machine', bassist Nikolai Fraiture said: "We got off tour and we had these songs, some left over and some new. We rehearsed in Electric Lady and it was working so we went with it. It was touch and go for a while but we finished up at Electric Lady (recording studio) in New York. We recorded ten or 11 songs and there is other stuff floating around." He added: "We hashed it out all together like the good old days. It's a legendary studio and it is not far away from us all, apart from Nick who lives in Los Angeles, but he made the trip out to record."
Tracklist
Tap Out
All The Time
One Way Trigger
Welcome To Japan
80's Comedown Machine
50/50
Slow Animals
Partners In Crime
Chances
Happy Endings
Call It Fate, Call It Kama