---
---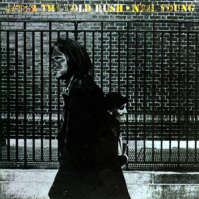 Format
Label
---
After The Goldrush
---
After The Gold Rush is the Third Album by the Canadian Country/Folk-Rock Musicians Neil Young.
When After The Gold Rush was recorded, Neil Young had already played with Buffalo Springfield, was a regular in most concerts by Crosby, Stills And Nash and would culminate with his entry on the Band and the recording of one of the most famous Albums on Rock History, and had gotten the Band Crazy Horse to back him. It was with Crazy Horse that Young started the Sessions, that would eventually lead to the Album itself, but in the middle of the process he sent them away and was joined by some of the Musicians of CSNY, even though of the main characters on the Band only Stephen Stills participated. CSNY Album had just been released (Déjà Vu) and this propelled Young's Album to the Top of the charts (All the other Members were releasing Solo Album at the time). It got to the number 8 Slot in the Billboard Charts in America, and while at the time of the release it was quite criticized by the Critics, it is now regarded as one of the Top-100-Albums ever made.
Best Tracks - "Tell Me Why", "After The Gold Rush", "Only Love Can Break Your Heart", "Don't Let It Bring You Down" and "I Believe In You". A much less Electric work then it's previous and already quite similar to what was to come in Harvest. Excellent Album with some of the greatest Songs on his career.