---
---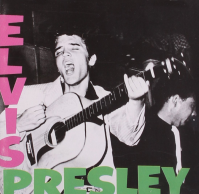 Format
---

88875111951

Long Player

£ —

Out of stock

Elvis Presley

---

Rockabilly 50s rock n roll 180 Gram vinyl When Elvis first broke on the national scene nobody not RCA not Elvis' manager Colonel Tom Parker and certainly not Elvis himself had any idea how long his popularity would last Most assumed that rock and roll was a passing fad and that Presley would soon be relegated to the 'Where are they Now' bin Unsurprisingly RCA rushed Presley's first album to market before Elvis had recorded enough new material for an entire record The result 'Elvis Presley' is a cutandpaste job consisting of seven RCA recordings and five older tracks licenced from Sun records Presley's first label Still this is a monumental record in the history of rock and roll from its iconic cover which the Clash later paid homage to on the cover of 'London Calling' to the twelve great tracks to its unprecedented sales figures it topped the billboard album charts for 20 weeks The RCA material includes Elvis' arrangement of 'Blue Suede Shoes' and covers of rampb hits 'Money Honey' 'Tutti Frutti' and 'I Got a Woman'

Tracklist

1. Blue Suede Shoes
2. I'm Counting On You
3. I Got A Woman
4. One-Sided Love Affair
5. I Love You Because
6. Just Because
7. Tutti Frutti
8. Trying To Get To You
9. I'm Gonna Sit Right Down And Cry (Over You)
10. I'll Never Let You Go (Little Darlin')
11. Blue Moon
12. Money Honey
13. Heartbreak Hotel
14. I Was The One
15. "Lawdy, Miss Clawdy"
16. "Shake, Rattle And Roll"
17. My Baby Left Me
18. "I Want You, I Need You, I Love You"