---
---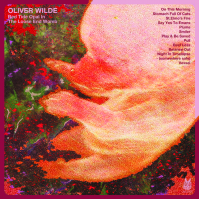 Format
Label
---
Red Tide Opal In The Loose End
---
*** All pre orders of CD or LP will be signed by the man himself ***
*** First 10 orders will get limited edition splattered vinyl edition ***
Housed in a screenprinted outer sleeve, with double sided insert and treats.
LP comes with Download
We knew how special Oliver Wilde was as an artist and a person when we first came across him in 2012; 'Curve' floored us in an instant and then when the rest of 'A Brief Introduction To Unnatural Lightyears' fluttered our way knew that it was our duty to floor as many other people as possible with his music.
Unsurprisingly 2013 saw Oliver gain critical acclaim and a devoted fan-base for his work whilst him and his band grew into an entity of their own, touring up and down the country, playing sell out shows at St Pancras Old Church, London, and the Arnolfini, Bristol, along the way.
Now in 2014 we cannot for the World to hear his second album. An organic progression from ABITUL, Red Tide Opal In the Loose End Womb finds the prodigal artist expanding musically his sonic experimentation and lyrically the surreal yet intimate imagery that we have all come to know and love over twelve tracks that reward listeners with subtle gems.
Out May 5th 2014