---
---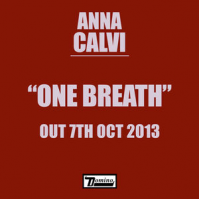 Formats
---

---

WIGLP284

Long Player

£15.00
Label
---
One Breath
---
One Breath is a bold and confident record that begins an exciting new chapter in this uniquely talented artist's career.
Produced by John Congleton in Blackbox Studios, France and mixed in Dallas, Texas, USA, One Breath was written in a year and recorded over a few intense weeks.
One Breath is a more personal record than its Mercury and Brit nominated predecessor. Reflective and vulnerable, it strikes a balance between optimism and despair, beauty and ugliness. The fiery elements of Anna's debut remain, but One Breath is more instinctive and urgent, revealing a wider spectrum of textures and emotion.
"One Breath is the moment before you've got to open yourself up, and it's about how terrifying that is. It's scary and it's thrilling. It's also full of hope, because whatever has to happen hasn't happened yet." – Anna Calvi
Tracklist
01. Suddenly
02. Eliza
03. Piece By Piece
04. Cry
05. Sing To Me
06. Tristan
07. One Breath
08. Love Of My Life
09. Carry Me Over
10. Bleed Into Me
11. The Bridge