---
---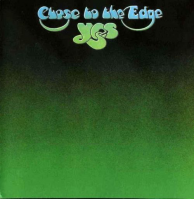 Format
---

8122797157

Long Player

£13.00
Label
---
Close To The Edge (Ltd Ed. 180GM Vinyl LP)
---
Originally released in 1972 on Atlantic Records 'Close to the Edge' is the fifth studio album by English progressive rock band Yes.
At arguably their creative peak, this opus is home to three of the band's finest long-form pieces, including the signature Siberian Khatru.
180gm Limited Edition Vinyl LP. Cut from analogue masters. Gatefold sleeve. Original artwork.
Tracklist
1. Close to the Edge

I. The Solid Time of Change
II. Total Mass Retain
III. I Get Up, I Get Down
IV. Seasons of Man

2. And You and I

I. Cord of Life
II. Eclipse
III. The Preacher the Teacher
IV. Apocalypse

3. Siberian Khatru