---
---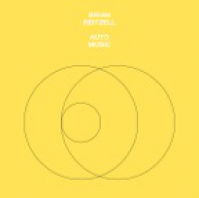 Formats
---

---
Label
---
Auto Music
---
What better place to create the ultimate driving album than Los Angeles, where Brian Reitzell lives and works? You might not immediately recognise his name, but you'll certainly have stumbled across at least one corner of his massive portfolio, whether as the drummer in Redd Kross and with French electronica artists Air, or as one of Hollywood's most sought-after music supervisors and composers.
Brian is the guy who gets to choose the music you hear in TV series and movies – the last year alone, he's worked on Sofia Coppola's The Bling Ring, NBC's TV series Hannibal, Starz TV series Boss (starring Kelsey Grammer) and Ubisoft's mind blowing new video game Watch Dogs. Brian has turned the job into a creative practice (he thinks of himself as a 'music conceptualist'), not only using his impeccable music taste to select more eclectic and adventurous cuts than you normally hear on screen, but also commissioning and producing new music from some of rock and pop's most reticent geniuses. For Sofia Coppola's Lost In Translation, he persuaded My Bloody Valentine's Kevin Shields out of obscurity, and he also secretly commissioned new music from the reclusive former singer of Talk Talk, Mark Hollis – a snippet of which was used on the Starz series Boss.
"I was experimenting with sounds to further my knowledge for creating music for my film projects and exploring new ways to make music." So on 'Last Summer', inspired by a conversation with Kevin Shields (who also plays organ on the track), Brian held a twonote, seven-minute chord on an organ five times, then stacked the differently-EQed layers on top of each other. On 'Ozu' and 'Honeycomb' he bowed the strings inside a piano and applied eight different kinds of analog tremolo effect. But the end results are far from dry experimentalism – instead they're a marvellous evocation of coasting along California's freeways, revelling in the blissful sensation of forward motion. "I wanted to make music that felt like my drive from my house to my studio – roughly six miles. I liked the structure of the drive: never repeating, unless I forgot something at home and had to go back! It was sort of like 'event music' where little things come into view and then another one takes its place as you drive past... very Krautrock, I guess."
Personnel on Auto Music:
Brian Reitzell
Kevin Shields (My Bloody Valentine)
Dave Palmer (Fiona Apple)
Roger J. Manning Jr. (Jellyfish, Beck)
Tim Young (David Sylvian)
Jim James (My Morning Jacket)
Mike Dillon
Tracklist
1. Last Summer
2. Ozu Choral
3. Ozu
4. Gaudi
5. Auto Music 1
6. Beehive
7. Oskar
8. Honeycomb
9. Auto Music 2