---
---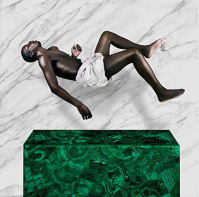 Format
---

DS100LP

2 x Long Player

£20.00

X

Double Vinyl
Label
---
La Vie Est Belle/Life Is Beautiful
---
The debut album release by Yannick Ilunga, AKA Petite Noir, 'La Vie Est Belle / Life Is Beautiful'. Is an 11 track LP from the half-Congolese, half-Angolan, Cape Town-residing artist. This follows the release of his breakout EP, 'The King Of Anxiety', earlier in 2015.
Recorded at Box Ten Studios in London with Oli Bayston (Boxed In) and Leon Brichard (Ibibio), 'La Vie Est Belle / Life Is Beautiful' is a highly accomplished album with a unique concoction of influences. The record seamlessly fuses intricate contemporary electronics and raw post-punk energy with Yannick's stirring, soulful vocals and African shuffles that echo his homeland. Named after a revered Congolese film of the same name, the album is both a beacon and a vessel of inspiration, offering empowerment to those who need it.
With footage filmed around the streets of Lubumbashi during Yannick's recent trip to the Democratic Republic of Congo, the first track shared from the album - 'Down' - blends unrehearsed imagery and joyful sounds to paint a contemporary portrait of Petite Noir's Congolese background and his hopes for the country's future.
Tracklist
1. Intro Noirwave
2. Best
3. Freedom
4. Seventeen (Stay)
5. Just Breathe
6. La Vie Est Belle/life Is Beautiful
7. MDR
8. Colour
9. Down
10. Inside
11. Chess