---
---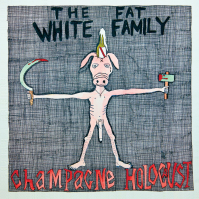 Format
---

TMR01LP

Long Player

£10.00
Label
---
Champagne Holocaust (Deluxe)
---
Champagne Holocaust, originally released in the summer of 2013 is being re-released by Trashmouth Records on Monday September 15th 2014.
The re-release will include a bonus 10-track CD featuring un-released / live tracks and new inner-spread artwork featuring 17 drawings by Saul from the band of famous serial killers which are featuring in a forthcoming exhibition alongside work by legendary 60's cartoonist R. Crumb.
Finally, after a summer of shockingly good appearances at most of the UK festivals, including Glastonbury, Latitude, Green Man and Reading / Leeds, they round off their Tour of Tenderness with a run of UK headline dates in September before heading off to start work on their second album, due in 2015.
Tracklist
Disc 1:
1. Auto Neutron
2. Raining In Your Mouth
3. Who Shot Lee Oswald
4. Without Consent
5. Special Ape
6. Cream Of The Young
7. Wild American Prairie
8. Borderline
9. Heaven On Earth
10. Bomb Disneyland
11. Garden Of The Numb

Disc 2:
1. Wet Hot Beef part I
2. Wet Hot Beef part II
3. Now That I'm Taking Myself Seriously As an Artist (Wet Hot Beef Part III)
4. Lend Me Some Cutter
5. Borderline (Demo Version)
6. These Hands (Demo)
7. Nagasaki Dust
8. Bomb Disneyland (Live Version)
9. Mau!
10. Cream of the Young (Medicine 8 Remix)