---
---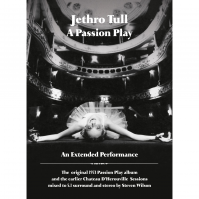 Format
---

2564630775

Long Player

£12.00
Label
---
A Passion Play (An Extended Performance)
---
Alongside Thick As A Brick, 1973′s A Passion Play is Jethro Tull's most overtly Progressive and conceptual release, featuring a complex poetic narrative framed by the most adventurous music of the band's career.
A #1 US hit on its release, the album offers dazzling virtuoso instrumental passages, evocative synthesiser sequences, and fuses Folk, Jazz and Rock influences in a strikingly unique, wholly Jethro Tull way.
A Passion Play (An Extended Performance) features new Steven Wilson mixes (stereo and 5.1) of the album, alongside Steven Wilson mixes of the infamous 'Chateau Disaster' recordings that preceded it.
Packaged with an 80 page book detailing the album, the band's 1973 tour and the Chateau recordings, (An Extended Performance) is a glorious way to celebrate a one of a kind release.
Tracklist
Disc: 1
1. Lifebeats/Prelude (Stereo Mix)
2. The Silver Cord (Stereo Mix)
3. Re-Assuring Tune (Stereo Mix)
4. Memory Bank (Stereo Mix)
5. Best Friends (Stereo Mix)
6. Critique Oblique (Stereo Mix)
7. Forest Dance #1 (Stereo Mix)
8. The Story Of The Hare Who Lost His Spectacles (Stereo Mix)
9. Forest Dance #2 (Stereo Mix)
10. The Foot Of Our Stairs (Stereo Mix)
11. Overseer Overture (Stereo Mix)
12. Flight From Lucifer (Stereo Mix)
13. 10.08 To Paddington (Stereo Mix)
14. Magus Perde (Stereo Mix)
15. Epilogue (Stereo Mix)

Disc: 2
1. The Big Top (The Chateau D'Herouville Sessions) [Stereo Mix]
2. Scenario (The Chateau D'Herouville Sessions) [Stereo Mix]
3. Audition (The Chateau D'Herouville Sessions) [Stereo Mix]
4. Skating Away On The Thin Ice Of The New Day (The Chateau D'Herouville Sessions) [Stereo Mix]
5. Sailor (The Chateau D'Herouville Sessions) [Stereo Mix]
6. No Rehearsal (The Chateau D'Herouville Sessions) [Stereo Mix]
7. Left Right (The Chateau D'Herouville Sessions) [Stereo Mix]
8. Only Solitaire (The Chateau D'Herouville Sessions) [Stereo Mix]
9. Critique Oblique (Part 1) [The Chateau D'Herouville Sessions] (Stereo Mix)
10. Critique Oblique (Part Ii) [The Chateau D'Herouville Sessions] (Stereo Mix)
11. Animelee (1st Dance) [The Chateau D'Herouville Sessions] (Stereo Mix)
12. Animelee (2nd Dance) [The Chateau D'Herouville Sessions] (Stereo Mix)
13. Law Of The Bungle (Part I) [The Chateau D'Herouville Sessions] (Stereo Mix)
14. Tiger Toon (The Chateau D'Herouville Sessions) [Stereo Mix]
15. Law Of The Bungle (Part Ii) [The Chateau D'Herouville Sessions] (Stereo Mix)

Disc: 3
1. Lifebeats/Prelude (5.1 Dts)
2. The Silver Cord (5.1 Dts)
3. Re-Assuring Tune (5.1 Dts)
4. Memory Bank (5.1 Dts)
5. Best Friends (5.1 Dts)
6. Critique Oblique (5.1 Dts)
7. Forest Dance #1 (5.1 Dts)
8. The Story Of The Hare Who Lost His Spectacles (5.1 Dts)
9. Forest Dance #2 (5.1 Dts)
10. The Foot Of Our Stairs (5.1 Dts)
11. Overseer Overture (5.1 Dts)
12. Flight From Lucifer (5.1 Dts)
13. 10:08 To Paddington (5.1 Dts)
14. Magus Perde (5.1 Dts)
15. Epilogue (5.1 Dts)
16. Lifebeats/Prelude (Dolby Digital Surround Sound)
17. The Silver Cord (Dolby Digital Surround Sound)
18. Re-Assuring Tune (Dolby Digital Surround Sound)
19. Memory Bank (Dolby Digital Surround Sound)
20. Best Friends (Dolby Digital Surround Sound)
21. Critique Oblique (Dolby Digital Surround Sound)
22. Forest Dance #1 (Dolby Digital Surround Sound)
23. The Story Of The Hare Who Lost His Spectacles (Dolby Digital Surround Sound)
24. Forest Dance #2 (Dolby Digital Surround Sound)
25. The Foot Of Our Stairs (Dolby Digital Surround Sound)
26. Overseer Overture (Dolby Digital Surround Sound)
27. Flight From Lucifer (Dolby Digital Surround Sound)
28. 10:08 To Paddington (Dolby Digital Surround Sound)
29. Magus Perde (Dolby Digital Surround Sound)
30. Epilogue (Dolby Digital Surround Sound)
31. Lifebeats/Prelude (96/24 Pcm Stereo)
32. The Silver Cord (96/24 Pcm Stereo)
33. Re-Assuring Tune (96/24 Pcm Stereo)
34. Memory Bank (96/24 Pcm Stereo)
35. Best Friends (96/24 Pcm Stereo)
36. Critique Oblique (96/24 Pcm Stereo)
37. Forest Dance #1 (96/24 Pcm Stereo)
38. The Story Of The Hare Who Lost His Spectacles (96/24 Pcm Stereo)
39. Forest Dance #2 (96/24 Pcm Stereo)
40. The Foot Of Our Stairs (96/24 Pcm Stereo)
41. Overseer Overture (96/24 Pcm Stereo)
42. Flight From Lucifer (96/24 Pcm Stereo)
43. 10:08 To Paddington (96/24 Pcm Stereo)
44. Magus Perde (96/24 Pcm Stereo)
45. Epilogue (96/24 Pcm Stereo)
46. A Passion Play Part 1 (Original Master)
47. A Passion Play Part 2 (Original Master)
48. The Story Of The Hare Who Lost His Spectacles
49. Intro/Outro Passion Play Film Footage

Disc: 4
1. The Big Top (The Chateau D'Herouville Sessions) [5.1 Dts]
2. Scenario (The Chateau D'Herouville Sessions) [5.1 Dts]
3. Audition (The Chateau D'Herouville Sessions) [5.1 Dts]
4. Skating Away On The Thin Ice Of The New Day (The Chateau D'Herouville Sessions) [5.1 Dts]
5. Sailor (The Chateau D'Herouville Sessions) [5.1 Dts]
6. No Rehearsal (The Chateau D'Herouville Sessions) [5.1 Dts]
7. Left Right (The Chateau D'Herouville Sessions) [5.1 Dts]
8. Only Solitaire (The Chateau D'Herouville Sessions) [5.1 Dts]
9. Critique Oblique (Part I) [The Chateau D'Herouville Sessions] (5.1 Dts)
10. Critique Oblique (Part Ii) [The Chateau D'Herouville Sessions] (5.1 Dts)
11. Animelee (1st Dance) [The Chateau D'Herouville Sessions] (5.1 Dts)
12. Animelee (2nd Dance) [The Chateau D'Herouville Sessions] (5.1 Dts)
13. Law Of The Bungle (Part I) [The Chateau D'Herouville Sessions] (5.1 Dts)
14. Tiger Toon (The Chateau D'Herouville Sessions) [5.1 Dts]
15. Law Of The Bungle (Part Ii) [The Chateau D'Herouville Sessions] (5.1 Dts)
16. The Big Top (The Chateau D'Herouville Sessions) [Dolby Digital Surround Sound]
17. Scenario (The Chateau D'Herouville Sessions) [Dolby Digital Surround Sound]
18. Audition (The Chateau D'Herouville Sessions) [Dolby Digital Surround Sound]
19. Skating Away On The Thin Ice Of The New Day (The Chateau D'Herouville Sessions) [Dolby Digital Surround Sound]
20. Sailor (The Chateau D'Herouville Sessions) [Dolby Digital Surround Sound]
21. No Rehearsal (The Chateau D'Herouville Sessions) [Dolby Digital Surround Sound]
22. Left Right (The Chateau D'Herouville Sessions) [Dolby Digital Surround Sound]
23. Only Solitaire (The Chateau D'Herouville Sessions) [Dolby Digital Surround Sound]
24. Critique Oblique (Part I) [The Chateau D'Herouville Sessions] (Dolby Digital Surround Sound)
25. Critique Oblique (Part Ii) [The Chateau D'Herouville Sessions] (Dolby Digital Surround Sound)
26. Animelee (1st Dance) [The Chateau D'Herouville Sessions] (Dolby Digital Surround Sound)
27. Animelee (2nd Dance) [The Chateau D'Herouville Sessions] (Dolby Digital Surround Sound)
28. Law Of The Bungle (Part I) [The Chateau D'Herouville Sessions] (Dolby Digital Surround Sound)
29. Tiger Toon (The Chateau D'Herouville Sessions) [Dolby Digital Surround Sound]
30. Law Of The Bungle (Part Ii) [The Chateau D'Herouville Sessions] (Dolby Digital Surround Sound)
31. The Big Top (The Chateau D'Herouville Sessions) [96/24 Pcm Stereo]
32. Scenario (The Chateau D'Herouville Sessions) [96/24 Pcm Stereo]
33. Audition (The Chateau D'Herouville Sessions) [96/24 Pcm Stereo]
34. Skating Away On The Thin Ice Of The New Day (The Chateau D'Herouville Sessions) [96/24 Pcm Stereo]
35. Sailor (The Chateau D'Herouville Sessions) [96/24 Pcm Stereo]
36. No Rehearsal (The Chateau D'Herouville Sessions) [96/24 Pcm Stereo]
37. Left Right (The Chateau D'Herouville Sessions) [96/24 Pcm Stereo]
38. Only Solitaire (The Chateau D'Herouville Sessions) [96/24 Pcm Stereo]
39. Critique Oblique (Part I) [The Chateau D'Herouville Sessions] (96/24 Pcm Stereo)
40. Critique Oblique (Part Ii) [The Chateau D'Herouville Sessions] (96/24 Pcm Stereo)
41. Animelee (1st Dance) [The Chateau D'Herouville Sessions] (96/24 Pcm Stereo)
42. Animelee (2nd Dance) [The Chateau D'Herouville Sessions] (96/24 Pcm Stereo)
43. Law Of The Bungle (Part I) [The Chateau D'Herouville Sessions] (96/24 Pcm Stereo)
44. Tiger Toon (The Chateau D'Herouville Sessions) [96/24 Pcm Stereo]
45. Law Of The Bungle (Part Ii) [The Chateau D'Herouville Sessions] (96/24 Pcm Stereo)