---
---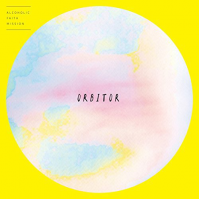 Formats
---

---

HPR99

2 x Long Player

£15.00
Label
---
Orbitor
---
In February 2006 the two high school friends Thorben and Sune formed Alcoholic Faith Mission. Walking through Brooklyn they accidentally stumbled upon the Apostolic Faith Mission. Since they were discussing alcoholism they joked about trading Apostolic out for Alcoholic; alcoholics have faith in booze like the devout have in religion. A band with a name was conceived. All recordings were made with a simple laptop in Thorben's bedroom along with just a few rules: Only record at night. The only light source could be that of candles. Consumption of alcohol was integral. And lastly, once something was recorded it could not be changed. The debut "Misery Loves Company" was released the same year.
Since then four more albums and an EP have seen the light of day and the band grew to a sixpiece and Alcoholic Faith Mission have played almost 200 shows in Europa and the US. At the German Reeperbahn-Festival in september 2014 The Alcoholic Faith Mission impressed a numerous audience and even picky critics in the legendary 'Grünspan' club. Later on Thorben and Sune proved their versatility with an improvised duo performance in nearby church of St. Pauli. With "Orbitor", their second album release on Haldern Pop Recordings, the band present an almost symphonic piece of work with ambient and dreampop-moods impressingly sweeping towards the listener.
Thorben's dramatic falsetto along with Kristine's pixie-like incantations comment a thrilling cinemascopic popsound that is accentuated by powerful drum cascades. In thirteen musical miniatures the band tells us at times rather permissive stories about loving and life, lust and loss that make "Orbitor" a stirring album of disturbing beauty. The sixpiece still stands for melody drunken, synthie driven indiepop standing always open for the experiment.
Tracklist
1. Orbitor
2. Another You
3. Everyone's Got Dynamite
4. Crystalized Night
5. Come Here Wash in Over Me
6. Cut You Up
7. The Best Day of My Life
8. Let in All the Ghosts (Rule the World in Rain)
9. Time to Bring the War
10. Dream in Silence
11. Breaking for the Last Time