---
---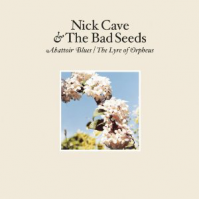 Format
Label
---
Abattoir Blues / The Lyre of Orpheus
---
Nick Cave formed the Bad Seeds following the end of his previous band Birthday Party. The Bad Seeds brought together former Birthday Party guitarist Mick Harvey (drums), ex-Magazine bassist Barry Adamson, and Einstürzende Neubauten guitarist Blixa Bargeld.
EMI Catalogue are to release the final three instalments in a series of twelve releases that will ultimately see the band's entire catalogue of studio albums digitally re-mastered and remixed for 5.1 Surround Sound for the first time since their original release. As with the Mute released previous albums, each album will be released as a deluxe double-disc collectors edition. For this release, it will be a 2CD/DVD.
Each deluxe edition contains the re-mastered stereo album, the new surround mix, a specially commissioned short film by UK artists Iain Forsyth and Jane Pollard plus the b-sides from the singles, videos and exclusive sleeve notes.
Abattoir Blues/The Lyre of Orpheus is a beamingly confident, expansive and ground-breaking album - all the more impressive in light of the fact that it follows in the wake of losing a key long-time band member, Blixa Bargeld. Despite being a double disc album of seventeen-song girth, it is one of Nick Cave & The Bad Seeds most successful albums, achieving chart success in Australia and throughout Europe, and was certified gold status in the UK in 2006.
Tracklist
CD 1
1. Get Ready For Love
2. Cannibal's Hymn
3. Hiding All Away
4. Messiah Ward
5. There She Goes, My Beautiful World
6. Nature Boy
7. Abattoir Blues
8. Let The Bells Ring
9. Fable Of The Brown Ape

CD 2
1. The Lyre Of Orpheus
2. Breathless
3. Babe, You Turn Me On
4. Easy Money
5. Supernaturally
6. Spell
7. Carry Me
8. O Children

DVD
1. Get Ready For Love
2. Cannibal's Hymn
3. Hiding All Away
4. Messiah Ward
5. There She Goes, My Beautiful World
6. Nature Boy
7. Abattoir Blues
8. Let The Bells Ring
9. Fable Of The Brown Ape
10. The Lyre Of Orpheus
11. Breathless
12. Babe, You Turn Me On
13. Easy Money
14. Supernaturally
15. Spell
16. Carry Me
17. O Children
18. She's Leaving You
19. Under This Moon
20. Hiding All Away (Live At Maida Vale)
21. There She Goes, My Beautiful World (Live At Maida Vale)
22. Do You Love Me Like I Love You (Part 13: Abattoir Blues / The Lyre Of Orpheus)
23. Nature Boy
24. Breathless
25. Get Ready For Love (Live)
26. Get Ready For Love
27. Cannibal's Hymn
28. Hiding All Away
29. Messiah Ward
30. There She Goes, My Beautiful World
31. Nature Boy
32. Abattoir Blues
33. Let The Bells Ring
34. Fable Of The Brown Ape
35. The Lyre Of Orpheus
36. Breathless
37. Babe, You Turn Me On
38. Easy Money
39. Supernaturally
40. Spell
41. Carry Me
42. O Children
43. She's Leaving You
44. Under This Moon
45. Hiding All Away (Live At Maida Vale)
46. There She Goes, My Beautiful World (Live At Maida Vale)
47. Do You Love Me Like I Love You (Part 13: Abattoir Blues / The Lyre Of Orpheus)
48. Nature Boy
49. Breathless
50. Get Ready For Love (Live)