---
---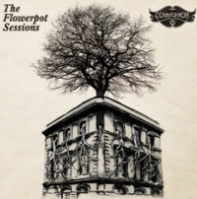 Formats
---

---

---
Flower Pot Sessions
---
Recording an album in seven days is hard enough. When you add into the mix a huge cast – including an affable tortoise called Lionel, a film crew, hundreds of fans and tens upon tens of artists and performers, including North London squat-pop 'icon' Beans on Toast and various members of one of the most successful home grown, accordion-toting acts of recent times; Mumford & Sons – things get even more difficult. Thankfully they also get a whole lot more fun.
Over the course of a week in July 2010, the Communion club night and record label collective set about making their second compilation album release. Like the first it would be a mixture of tracks from some of their favourite contemporary acts. Yet while the first album showed off the folksy side to the label, with the likes of Johnny Flynn, Pete Roe and Peggy Sue all taking part, the second compilation was to be an album which wasn't just about the shiny finished product that you now have in your hands, but about the process of experimentation and creation, not forgetting that all important what-the-heck-just-happened factor.
Recorded in one week straight, not in a recording studio but in a Kentish Town pub called The Flowerpot (sadly now defunct but relocated round the corner in Camden), acoustic sessions were laid down during the hangover flecked daytimes after brief bouts of practise and maybe some off-the-hoof song writing. Over that week a group of musicians who'd never met each other before – and a fair few who had – attempted to create a fresh perspective to a small selection of their songs. Those songs would then be played live on The Flowerpot's stage every evening, at a series of all-in-it-together gigs, with a host of acts and numerous guest turns each night. After that, it was every man or woman for themselves, as sessions continued into the early hours, with the now rather refreshed artists jamming upstairs until whenever bedtime happened to be.
Testament to the unswerving dedication of the project, every single song that was played over the course of the week was recorded, meaning that by the end of the project, Communion had themselves over 60 hours of music and the unenviable task of editing it down for this album.
Starting off life as a supportive, talent-packed band night that was about the music and not about the posing, Communion was a natural successor to the late, great cult Kings Road venue, Bosun's Locker. Founded by musicians Kevin Jones and Mumford & Sons' Ben Lovett, and with legendary producer and engineer Ian Grimble rounding the team out to a trio, Communion fast became one of the best places in London to see new music stripped of pretension and of battling egos. After more than three years of politely ploughing away, putting on not just unsung acoustic heroes but indie up and comers too, Communion had reached out from their humble beginnings in London to Leeds, Bristol, Belfast, Brighton, York, Oxford, Dublin and even Sydney, Australia.
The next obvious step was to start releasing records under the Communion banner and so the innovative Flowerpot Sessions came to be, opening for business on a bright, summery Monday morning with a host of global talent turning up on the Flowerpot's doorstep.
This wasn't just any old week at the office, too. The first day saw James Moss, Americana crooner Lissie, and Jesse Quin and Tim Rice-Oxley of Keane in their Mt. Desolation guise joined by pitch perfect sisters The Staves (now newly signed to Atlantic Records). All helping each other out on Lissie's stunning cover of hard living country superstar Hank Williams' 'Wedding Bells', Mt. Desolation went on to rope them all into their new song 'Dividing Line'.
Pitching relative unknowns against more established names was to become one of the week's many trademarks – drunkenness, moments of divine inspiration, and moments of severe confusion were just some of the others - and on the Tuesday, Angus & Julia Stone were joined by fellow Aussie and singer-songwriter Sarah Blasko. As well as playing their own shows in the evening, the three also wrote a brand new song for the occasion, having to listen to a smart phone recording of the track during the gig to remind themselves of just how it sounded.
Wednesday saw Bristol's Kill It Kid, Brighton's Passenger, Joker and the Thief and Broken Social Scene collaborator Paul Frith rock up for a rowdy day of practise and night of shows, whilst Thursday brought together a stream of Communion mainstays, including Matthew and the Atlas, who rounded up all the day's acts for a rousing version of his song 'Beneath The Sea', with the sultry Kyla La Grange and the hotly-tipped Marcus Foster, as well as Communion's own Kevin Jones piling on, before Marcus played his own soul-tinged, beatnik sounds.
On Friday, the mysterious case of the missing Lyrebirds drummer provided the week with its most serious dose of drama while Saturday heralded the welcome arrival of the as yet missing third of the founding Communion team, Ben Lovett. Flying straight into the fray from Benicassim Festival in Spain, where he'd just played a show with Mumford & Sons, he was joined by bandmate Winston Marshall, the day before their Latitude Festival set. Talking of Latitude, on their way back from the festival on Saturday, Angus and Julia Stone returned to The Flowerpot for another crack at the action, deciding to bring multi-platinum selling acoustic superstar Damien Rice with them. Pete Roe, Crowns, and The Staves – again – also took to one of the busiest stages of the week.
Tracklist
Disc One
1. Something Funny-Kill It Kid, Joer & The Thief
2. Oh Mississippi-Lissie, Mt. Desolation
3. It's About Time-Treetop Flyers
4. To Let Go-Angus & Julia Stone, Sarah Blasko
5. Scattered Hearts-Monument Valley
6. Hands To Hold-Kyla La Grange, Marcus Foster, Matthew And The Atlas
7. Patient Love-Passenger Feat. Angus And Julia Stone Band
8. Mexico-The Staves
9. Bellina-Pete Roe
10. Heart Of Hearts-Alan Pownall
11. Movement-Marcus Foster

Disc Two
1. Dividing Line-Mt. Desolation
2. Send Me An Angel Down-Kill it Kid
3. Traffic-Sam Beer
4. For Birds-James Moss
5. You're The One That I Want-Damien Rice, Angus & Julia Stone
6. Brixton Hill-Ryan O'Reilly
7. All I Had-Hughie Gavin
8. Old Fashioned Morphine-Tom McKean & The Emperors
9. All I Want-Sarah Blasko
10. Beneath The Sea-Matthew And The Atlas
11. How The Dinosaurs Talk-Beans On Toast
12. Little Eyes-Crowns