---
---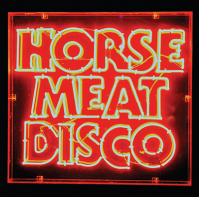 Formats
---

---
Label
---
Horse Meat Disco III
---
Acclaimed London DJ collective HORSE MEAT DISCO return in July with the third instalment in their essential compilation series bringing together rare disco, '80s boogie, electro, fresh edits and all-new dance- floor dsicoveries. Mixed by resident DJs James Hillard, Jim Stanton, Severino and Filthy Luka, this new edition packs in 28 incendiary tracks for guaranteed dancefloor heaven.
CD 1 brings the peak time selection and features a mix of original and new dancefloor winners. The mix kicks off with a Gazeebo re-work of Belle Epoque's quirky '80s groover, 'Miss Broadway' and also features Todd Terje's tripped back extended instro-edit of Claudja Barry's classic 'Sweet Dynamite. UK producer Andy Williams aka Yam Who? cuts a brand new version of Sha-Lor's house classic 'I'm In Love' and also features as bandleader of Fuzz Against Junk on the Harvey remix of their Talking Heads cover 'Born Under Punches' from the '90s heyday of Nuphonic Records. New productions feature from the stables of Smalltown Supersound, Rush Hour and more.
CD 2 takes us to the early hours with a hazy mid-tempo sleaze mix, echoing the spirit of infamous New York havens like The Saint. Tracks include the Factory Records classic 'Reach For Me' by the late Marcel King, the rare 'Lovemaker' by Wham (no relation to the George Michael group), re-issued here in a fresh Horse Meat Disco edit, and a new HMD mix of Tambi's rare version of Serious Intentiaon's 'You Don't
Know'. '80s grooves from High Resolution and B.L.T. rub shoulders with hand-picked mid-tempo beauties from Sylvester and original Weather Girls incarnation, Two Tons Of Fun.
Now into their seventh year, Horse Meat Disco have continued to lead the way with packed residencies at their HQ at The Eagle in London's Vauxhall, Lux in Lisbon and Tape in Berlin. Inspired by the music and inclusive ethos of New York's club scene during the '70s and '80s, the collective have garnered a unique reputation for amazing parties and unmatchable sets, the quartet of DJs each mixing their own quality blend of disco juice. During 2011, as well as playing their annual UK festival dates at Glastonbury and Lovebox, they will be spreading the love to some of the world's leading festivals including Vivid in Sydney, Electric Elephant, Bestival and San Francisco's Pride.
Tracklist
1 — Into the Milky Way — Jimmy Briscoe & the Beavers
1 — Miss Broadway [Gazeebo Edit] — La Belle Epoque
2 — Grapevine Boogie [Tribute Edit] — Leftside Wobble
2 — Grapevine Boogie [Tribute Edit] — Leftside Wobble
3 — Sweet Dynamite [Todd Terje Edit] — Claudja Barry
3 — Sweet Dynamite [Todd Terje Edit] — Claudja Barry
4 — Born Under Punches [Harvey's Punch Drunk Mix] — Fuzz Against Junk
4 — Born Under Punches [Harvey's Punch Drunk Mix] — Fuzz Against Junk
5 — Moon Jocks 'N' Prog Rocks [Todd Terje's Schlong Tong Vocal Version] — Mungolian Jetset
5 — Moon Jocks 'n' Prog Rocks [Todd Terje's Schlong Tong Vocal Version] — Mungolian Jet Set
6 — Downtown — Erodiscotique
6 — Downtown — Erodiscotique
7 — I Can't Give You More — Suzy-Q
7 — I'm in Love — Yam Who
8 — Sweet Suburban Disco [Serverino Dub Mix] — Billie Ray Martin
8 — I Got a Feeling — Larse
9 — You Never Loved Me [Pete Herbert And Tristan Da Cunha Remix] — Ava Cherry
9 — Sweet Suburban Disco [Severino Dub Mix] — Billie Ray Martin
10 — Let No Man Put Asunder — First Choice
10 — U Rocked My World [Pete Herbert and Tristan Da Cunha Remix] — The Glimmers
11 — Macho Disco Master — Wild Geese
11 — Macho Disco Master — Wild Geese
12 — Shutters [Extended 12" Mix] — Tom Trago
12 — Shutters [Extended 12" Mix] — Tom Trago
13 — I'm in Love — Yam Who
13 — Stars — Sylvester
14 — Together — Raphael Cameron