---
---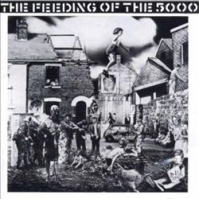 Formats
---

---
Label
---
Feeding of the 5000
---
First released in 1978 on Small Wonder Records, and later re-released on the band's own Crass Records, The Feeding Of The Five Thousand showed Crass as an anti-establishment and highly uncompromising act, and one that would influence countless other bands to follow.
The package comprises: CD in digiwallet, 64 page perfect-bound book of lyrics/liner notes/art/photos, miniature recreation of original fold-out poster sleeve, all in a cardboard slip-case. All new artwork from band member Gee Vaucher (aka G Suss) including a recreation of the original poster sleeve. Liner notes from band founders Steve Ignorant and Penny Rimbaud. Newly remastered, and bolstered with rare and unreleased tracks from the same period.
This signals the first in a series of remastered versions of each of Crass' now legendary albums, each one including bonus tracks and brand new artwork.