---
---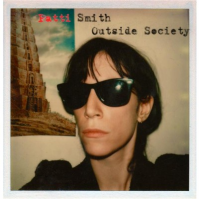 Format
Outside Society (Greatest Hits)
---
This is a new x18 trk, single disc collection from 'Hall of Fame' inductee Patti Smith, covering all her signature songs on the Columbia & Arista labels.
The chronologically arranged trks from 1975 album "Horses" through to 2007's "Twelve" include all her hit singles, fans favourites, "Because The Night" & a cover of Nirvana's "Smells Like Teen Spirit".
All trks have been remastered by engineer Greg Calbi & band member Tony Shanan. Expanded CD boooklet includes recollections of each song written by Patti, plus new photos.
Tracklist
1. "Gloria"
2. "Free Money"
3. "Ain't It Strange"
4. "Pissing in a River"
5. "Because the Night"
6. "Rock n' Roll (Expletive)"
7. "Dancing Barefoot"
8. "Frederick"
9. "So You Wanna Be a Rock n' Roll Star"
10. "People Have the Power"
11. "Up There Down There"
12. "Beneath the Southern Cross"
13. "Summer Cannibals"
14. "1959"
15. "Glitter in Their Eyes"
16. "Lo and Beholden (Radio Edit)"
17. "Smells Like Teen Spirit"
18. "Trampin'"