---
---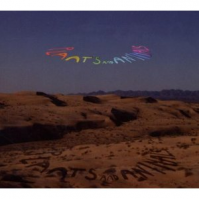 Format
Label
---
La La Land
---
Recorded in Paris and their hometown of Montreal, Plants and Animals' second album marks a minor change of emphasis from their 2007 With/Avec EP and 2008 full-length debut Parc Avenue (unreleased over here), squeezing out the kookier edges of their natural psychedelic rock and laying down some full-fat riffs. From the laidback Lynyrd Skynryd boogie of opener Tom Cruz on, there's a sense they're a little more ordinary now; but La La Land is so warm and easy to like, it triumphs over any misgivings.
The trio – singer/guitarist Warren Spicer, drummer Matthew Woodley and multi-instrumentalist Nicolas Basque – are firmly rooted in the early 70s, analogue to the bone, unafraid of stringing out a woozy guitar signature. It's not all Allman Brothers, as the twilight tropical slink of Kon Tiki proves, but bell-bottomed blues suffuse the slow-burning Game Shows and the desolate descending chords of Undone Melody. When they flick the fun switch on American Idol, with its blaring (almost) Muscle Shoals horns and fantastic dirty sax, they find that virgin hinterland where Roxy Music and Derek and the Dominos meet.
American Idol aside, La La Land settles into an unfussy mid-pace until single The Mama Papa gives it some Springsteen (via Can, oddly) with freewheeling rock'n'roll enthusiasm butting up against motorik propulsion. It gives a jolt to the pulse, but elsewhere there's rarely a need to shake off your whiskey-soaked threads.
In the end, the closest we get to a concession that there was life after 1975 is penultimate track Future from the 80s, a beautiful piece of low-strummed ambience, its vocodered voice expressing our lost dreams. Weren't we promised hoverboards? Back in the real world, fripperies are soon forgotten as La La Land wraps up with Jeans Jeans Jeans: it's little more than a hulking, crashing barrage of guitars, but it's a simple reflection on a hardy perennial, raw and back to basics like Plants and Animals themselves.
Tracklist
1 — Tom Cruz
2 — Swinging Bells
3 — American Idol
4 — Undone Melody
5 — Kon Tiki
6 — Game Shows
7 — The Mama Papa
8 — Fake It
9 — Celebration
10 — Future From The 80's
11 — Jeans Jeans Jeans