---
---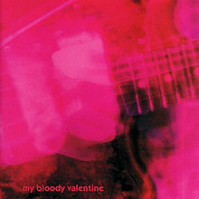 Format
---

X

2012 Reissue
Disc 1 – Re-master from original tape
Disc 2 - Mastered from original ½ inch analogue tapes
Label
---
Loveless
---
Long-awaited 2 CD reissue of the seminal My Bloody Valentine album.
The original studio albums have been painstakingly re-mastered by Kevin Shields at Metropolis Studios in London and Loveless comes as a 2-disc set featuring a previous re-mastering from original analogue tapes, completed by Kevin Shields but never released.
My Bloody Valentine remain one of the most unique and thrilling bands of the last 25 years. Sonic pioneers, they stood alone in the late 80s / early 90s, their two albums sounded like nothing that had gone before.
Tracklist
1. Only Shallow
2. Loomer
3. Touched
4. To here Knows When
5. When You Sleep
6. I Only Said
7. Come In Alone
8. Sometimes
9. Blown A Wish
10. What You Know
11. Soon