---
---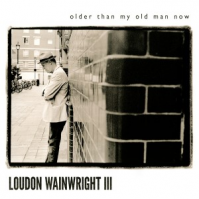 Format
Label
---
Older Than My Old Man Now
---
Loudon Wainwright III releases his new album Older Than My Old Man Now on Proper Records on the 16th April. As the new album's title relates, Loudon is Older Than My Old Man Now – his old man, of course, being the late Loudon Wainwright, Jr., the esteemed Life Magazine columnist and senior editor.
"Singer-songwriter contemporaries of mine have recently taken to writing memoirs and autobiographies," notes Wainwright. "I decided I would try to tell the story of my swinging life in a three and one-half minute song."
He's speaking specifically of the album's lead track 'The Here & the Now,' which features jazz guitar great John Scofield and backing vocals from all four of Wainwright's children – Rufus and Martha Wainwright, Lucy Wainwright Roche and Lexie Kelly Wainwright – as well as two of the three moms, Suzzy Roche and Ritamarie Kelly. But the album as a whole reflects the stage he's reached in his life, and as he so wryly puts it, the "death 'n' decay" that inevitably accompanies it.
One track which cuts directly to the issue, 'The Days That We Die,' remarkably brings together three generations of Wainwright males.
"My Dad wrote the recitation, and I'm singing with No. 1 son Rufus," says Wainwright. "That's my grandson Arcangelo Albetta – Martha's kid – I'm walking with on the beach photo that's part of the CD artwork. Not only that, but Loudon Wainwright I is referenced in the title track, so in fact there are five generations represented on the album!"