---
---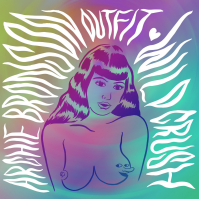 Formats
---

---

WIGLP333X

Long Player

£18.00
Label
---
Wild Crush
---
Wild Crush is the new LP by Archie Bronson Outfit. Recorded back in the bosom of their home town Bath, Wild Crush is an acutely apt title for an album packed with raw-romance, brutal hooks and groovy soul reflections.
In the 4 years since the release of their last LP Coconut, which won plaudits and reverence around the globe, A.B.O. have stripped themselves back and focused their vision. Having waved farewell to founding member D Hobday and welcomed Coconut live collaborator Kristian Robinson (aka Capitol K) on full time analogue synthesiser duty, Wild Crush became a journey of sonic re-discovery and a simultaneous new adventure.
2014 finds all essential ABO check points intact: driving rhythms.. howling romance.. distortion... echo.... rifferarama (tick! tick! tick! tick!) and with baritone sax delivered from long term friend to the band Duke Garwood, Wild Crush takes you aboard their time-travelling, genre-hopping silver machine: across the Atlantic, into the Mississippi blues heartlands, re-fuelling on 60's proto-punk, up to NY circa 1981 - O Superman, is that you riding alongside us? - and back to rock-riffing 70's mainstays of both the UK and Krautrock scenes.
Wild Crush is told in a compact 32 minutes, the 9 songs delivering perfectly-honed, soul-psych pop trips. The album's lyrics weld memory to the now with the rawness of the big emotions. "I've given up on dreams, for my dreams they are too mean", "a beak was pecking at my neck, it hurt like hell but what the heck" (from Sweat & Flow).
The overriding topical thread is the search for salvation and transition via romance and escape representing a desire to openly take stock of their current position; as individuals within their own band in transition, as well as placing their band in a wider context and heritage. This is the sound of the Archie's rooting themselves down.
Musically a harbinger of a new found dalliance with melody and exotic waters. "In White Relief", the album's kick-ass second track, evolves the psych-motorik of opener "Two Doves On A Lake" into a blissful and euphoric love/death/celebratory stomp. The vibe is dug deep by S Windetts opening palm-wine guitar, then the simultaneous crash of Arp's pounding midnight conga rhythms, Sam's Monks-like guitar skrunk, layered vocodered vocals and finally the bliss of Duke Garwood's baritone sex-sax. He here filters the spirit of Charles Mingus playing Russian roulette with Gerry Rafferty's silken-sax .. "In white relief I lived it brief, but with an eye on love I held belief"...
Wild Crush is an album that references the bands own past and simultaneously relishes a new present. The interim period between Coconut & Wild Crush saw the men widen their horizons both in terms of geography and art. The conflict of man vs machine, city vs an imagined rural utopia - explored on Coconuts' Wild Strawberries - pre-imagined an actual move for Arp from the bands long term home of London, to the wilds of Cornwall, where the lyrics of Wild Crush were conceived; "practice alone to harness the sun, jump into the waters let the tide push on you" (Love To Pin You Down).
Meanwhile, S Windett has established himself as a respected young painter, with a successful international career that has included shows in London, Los Angeles, New York and Dusseldorf. No longer constrained within a twin guitar set-up,a new sense of free reign and confidence is borne out in the fabric of the LP.
And as with any A.B.O. record there is a sense of 'gang', of an untouchable and impenetrable bond. A band willing, indeed unable, to do anything other than furrow their own trail. Having been friends since their teens, S Windett & Arp's musical journey is built on a code of brotherhood: instinctive and intuitive; a nuanced understanding of lives intertwined and played out in song.
Wild Crush is a record that manages to weave together a broad spectrum of aesthetic references within a unified sense of soul-searching playfulness that encompasses a nervous, paranoid energy "I keep on thinking I'm gonna die" (In White Relief) or "Hit the streets with no-one to meet, dirty streets you gotta hit them hard" (Two Doves On a Lake) to salvation, "watch this space I'll come around, I can feel my nerves breakdown" (Country Miles) and desire, "this is heaven I found, I'd love to pin you down" (Love To Pin You Down).
In Wild Crush, S Windett & Arp Cleveland have dispatched a master-class in fearless singularity, joyously tearing down their very own boundaries of musical method and code. Scratching beneath the surface of their garage-blues-psych-kraut template to discover an often beautiful and reflective approach to retro/modern songcraft. Wild Crush is a record of hidden depths and new pastoral horizons. A record both beautiful and scarred, stylistically complex and yet wilfully simple. An album of 2 chord grooves and rich analogue synth-trains.. Ladies and Gentleman, the silver shuttle is here..... all aboard!!!
Tracklist
1. Two Doves On a Lake
2. In White Relief
3. We Are Floating
4. Love to Pin You Down
5. Lori from the Outer Reaches
6. Cluster Up & Hover
7. Glory, Sweat and Flow
8. Hunch Your Body, Love Somebody
9. Country Miles