---
---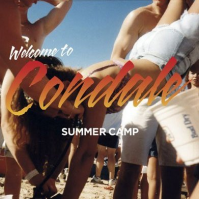 Formats
---

X

Comes with bonus ltd edition indie exclusive CD

---
Welcome To Condale
---
Jeremy Warmsley and Elizabeth Sankey are Summer Camp, and Welcome To Condale is unequivocally one of the best albums you'll hear this year. A tribute to teen longing and lost youth, the London duo's debut LP stands up to the hype, whilst refusing to sacrifice any of the romance or sheer dynamism of last year's standout EP, Young.
This is an album which owes as much to the eighties as it does to a certain self-effacing angst, which is so perfectly juxtaposed with the glam hooks that define the record. Welcome To Condale achieves the remarkable, in collecting twelve incredibly distinct songs whilst defining a sound which is implausibly fresh when located in their expansive canon of influences. The pervasive theme is that of lust and a naïve chemistry, rooted in the John Hughes films of the Eighties. The beauty lies in the vocal chemistry of Sankey and Warmsley, perfectly suited to their exploration of teen desire and the aesthetics of love, playing off one another and informing the simultaneous intimacy and escapism of the LP. The vocals are aurally distorted, distant, desperately shaping the immediate physical anxieties of the two protagonists. The album is shaped like the films that have informed it, playing on cliché in assessing ideas of physicality and first love; the record plays with the insecurities of its poetry, as 'Better Off Without You' clashes with the blunt sexual appeal of 'I Want You'.
This record is incredibly anthemic, surprisingly so perhaps after the dreamy, whimsical direction of Young. 'Brian Krakow' sees Warmsley taking lead vocal duties, with synthesised hand claps and a guitar hook that your dad would grow a mullet for. Every great album has one thing; a weak track. Sadly for the purists then, Welcome To Condale can't live up to this standard, the record is too just too damn brilliant. It is consistent in its breathtakingly high standard, without ever compromising its identity as an apparently garage album in its sonic DIY edge.
With so many labels floating around their conception, the most laughable was that of chillwave, as lazy reviewers chose an even lazier term to describe the nuanced, dreamy feel of 'Ghost Train', irrespective of the depth and expression of the track. Whilst synths are an extensive effect on the record, they are used to perpetuate the dancier edge of the record as thirty year old disco beats are dusted off and resurrected under the guise of the album of the year.
An album that defies both expectation and definition, founded in a rich sunset of self-indulgence and desire.
The 405
Tracklist
1. Better Off Without You Brian Krakow
2. I Want You
3. Losing My Mind
4. Summer Camp
5. Nobody Knows You
6. Down
7. Welcome to Condale
8. Done Forever
9. Last American Virgin
10. Ghost Train
11. 1988