---
---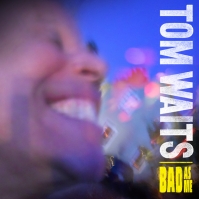 Formats
---

---

---
Label
---
Bad As Me
---
"All Aboard, All Aboard," is the croaking cry of conductor Tom Waits as his train embarks for points unknown on the frenetic "Chicago," which is taken from his ominously titled 17th album, Bad As Me. The unyielding train that dominates the introduction of Bad As Me serves as a perfect metaphor for Waits' musical trajectory because there's never been anything resembling a straight path in his career. Bad As Me is Waits' first studio album in seven years since the junkyard auteur released Real Gone. While Real Gone was notable for embracing a hip-hop aesthetic and appearing more concerned with political affairs, it displeased many a Waits fan because of the notable absence of a piano and co-opting of the urban style.
Waits' fans should rejoice then, as Bad As Me marks a return to form for the iconic statesman as it appears that the piano playing strongly figures into the mix. Bad As Me is also more guitar oriented than Real Gone as Marc Ribot, David Hidalgo and Keith Richards add their unique signatures to Waits' ever-changing styles. Keef plays on four tracks, Hidalgo on seven and Ribot's angular tones supplement eleven of the tracks. The racket that Waits' troupe conjures on the tunes that he and his wife Kathleen Brennan have penned is mind-blowing and serves as an apt complement.
CD Packaging:
Soft-Pak with 32 page book.
2CD Deluxe Packaging:
Ltd edition deluxe package includes 40 page book and 16 songs on 2 cd's.
LP Packaging:
Single jacket with a 5mm spine. Includes one 180g LP and a full-size 12 page book containing lyrics
and photos, + cd of the whole album.
Tracklist
1.Chicago - 2:15
2.Raised Right Men - 3:24
3.Talking At The Same Time - 4:13
4.Get Lost - 2:43
5.Face To The Highway - 3:44
6.Pay Me - 3:15
7.Back In The Crowd - 2:49
8.Bad As Me - 3:10
9.Kiss Me - 3:42
10.Satisfied - 4:07
11.Last Leaf - 2:56
12.Hell Broke Luce - 3:57
13.New Year's Eve - 4:28

Deluxe Disc 2 Tracklisting:

1.She Stole The Blush - 2:50
2.Tell Me - 3:42
3.After You Die - 2:47