---
---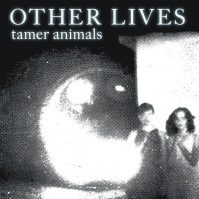 Format
Label
---
Tamer Animals
---
Rise is so excited about this release. We got a preview of the album, and it had to be played twice. Definitely for fans of The Fleet Foxes. The production on this record is first class.
It's hard to keep things fresh considering the impossibility of creating something entirely new to the music world anymore. If being completely original is not an option, what is one do to? Well, if you're Other Lives, you take a long gestation period to carefully craft your music to make sure it sounds exactly how you'd like to present it. Over the course of 14 months, Other Lives meticulously wrote, recorded, and self-produced their newest album, Tamer Animals, at their quaint studio in the small town of Stillwater, Oklahoma.
The instrumentation on the album is abundant: bassoon, bass clarinet, violin, trumpet, French horn, and cello, all working together to add another voice to the band entirely. The outcome of which is a sweeping wave of sounds that will crash over and swallow you whole. "As I Lay My Head Down" begins with thundering drums beating along to the clang of the tambourine and the soothing voice of member Jenny Hsu, but not without said violins, castanets, and bass clarinet giving the song a deep, emotional intensity. It's clear from the beginning that the music has a cinematic quality to it — painting various images in your head, as if you're dreaming while awake.
The atmosphere on this album is ridiculously thick and could appropriately be the score to a Cameron Crowe film. Expect your hairs to stand on end or expect to shed a tear and not know why. Simply feel inspired, because you can't help but be taken on a journey upon listening.
Tracklist
1. Dark Horse
2. As I Lay My Head Down
3. For 12
4. Tamer Animals
5. Folk Songs
6. Weather
7. Old Statues
8. Woodwind
9. Desert
10. Landforms
11. Head East