---
---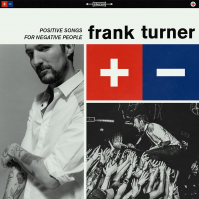 Formats
---

---

X

Deluxe CD.

---

4741079

Long Player

£18.00
Label
---
Positive Songs For Negative People
---
*** PLEASE NOTE THE IN-STORE EVENT IS NOW SOLD OUT. ANY PREORDERS FROM NOW WILL NOT RECEIVE WRISTBANDS. PLEASE CONTACT US ON THE DAY TO CHECK IF WE HAVE RETURNS/CANCELLATIONS ***
BRISTOL IN-STORE EVENT SOLD OUT
It has been an eventful decade for the troubadour from Winchester who now resides in Holloway, North London. Turner released his debut album, "Sleep is For The Week", in 2007 and has been on a stunning upward curve ever since. He is now one of the country's most cherished songwriters, a man who plays the biggest venues in the land and whose records reach the higher echelons of the charts but who has never lost sight of his original MO: write, record, tour, repeat.
As he turned his attention towards his sixth album at the tail-end of 2014, Turner thought back to his debut. "When a band makes a debut record, there's a freshness and excitement to it that bands often lose as time goes by," he says. "I wanted to try and make a record with that young, exciting feel." The idea was that Frank and his band would capture the exhilarating thrill of their live show. After a period of writing and perfecting the songs at a rehearsal studio in Oxfordshire, they headed to the US to work with Walker for an intense nine-day recording session in which the album was completed. "Pretty much all of it is live. The end result is everything I wanted it to be," he says.
Like much of Turner's work, it is a record that takes Life's Big Issues – triumphing over the darkest adversities – and places them inside a mix of beguiling, intricate vignettes and sweeping anthems. Josephine is a punky singalong and Mittens is a fistclenched song of defiance whilst tracks such as Glorious You and Demons pack a bittersweet emotional punch. That it begins with The Angel Islington, a tribute to North London, and ends with Song For Josh, a touching eulogy recorded live at the 9.30 Club in Washington, is an apt reflection of the journey Frank Turner has made over the past 10 years. He has made homes
from home, and formed strong bonds along the way. "Positive Songs For Negative People" is Turner at both his most reflective
and celebratory.
Tracklist
1. The Angel Islington
2. Get Better
3. The Next Storm
4. The Opening Act Of Spring
5. Glorious You
6. Mittens
7. Out Of Breath
8. Demons
9. Josephine
10. Love Forty Down
11. Silent Key
12. Song For Josh

Deluxe Bonus Acoustic Versions:
1. Get Better
2. The Next Storm
3. The Opening Act of Spring
4. Glorious You
5. Mittens
6. Out of Breath
7. Demons
8. Josephine
9. Love Forty Down
10. Silent Key