---
---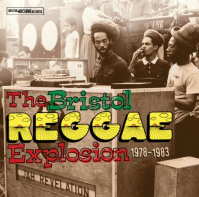 Formats
---

---
Label
---
Bristol Reggae Explosion (1978-1983)
---
'The Bristol Reggae Explosion 1978-1983' compilation is a superb showcase of the talent that lurks in the vaults of Bristol's musical heritage; a selection of recordings that have been preserved and documented by Bristol Archive Records, a label eager to share this under-championed, below the radar musical heritage.
The compilation opens with the appropriately titled 'Bristol Rock', the debut 1981 single by the John Peel-championed, Bristol-based Roots-reggae band Black Roots. 'Bristol Rock' is laden with Wurlitzer sounding organ melodies and paced by the characteristic strong offbeat holding back a down-tempo chilled feel regardless of the socially conscious lyrics. The groove is flanked by lazy brass backings, trombones especially dominant, and seamlessly flows into a similarly effortless, laid-back guitar solo. Roots reggae, a style that Black Roots epitomise, is characterised by its spiritual leaning; lyrics are often centred around spirituality, poverty, black pride, social and racial issues and so on, but, despite its heavy lyrical subject matter, the music always encapsulates a feel-good vibe as the later Black Roots contributions to the compilation, 'Tribal War' and 'Juvenile Delinquent' also emphasise. The 1978 Joshua Moses recording 'Africa (Is Our Land)' is filled with reverb and echo, much like the Restriction track 'Four Point Plan' which later sounds traditional reggae vocals, almost spoken rather than melodically sung, over a bed of echoing sounds and occasional brass backings.
Talisman, a multi-racial six-piece from Bristol, also existed relatively shy of the limelight during the early 'eighties whilst the likes of Aswad and UB40 hit the headlines. The Talisman tracks on the compilation also tie in with places in the local vicinity of Bristol; 'Run Come Girl' is a live recording from the 1981 Glastonbury festival, 'Wicked Dem' was recorded in 1981 live at Bath University, and finally concluding the album, the 12" mix of former NME Single of the Week, 'Dole Age' which was engineered by David Lord at Crescent Studios in Bath. 'Wicked Dem' again features strong lyrical content about the battle against racism, but the music sustains that same characteristic feel-good vibe.
Alongside the aforementioned are contributions from the late 'seventies and early 'eighties from The Radicals, Sharon Bengamin, Buggs Durrant and 3-D Production, all artists local to Bristol. This compilation is the first and only to attempt to document the local reggae scene therefore intend on projecting another exciting product of Bristol's musical heritage out to the nation. Commendable too that local artists such as Troy Ellis and the Longshots, Yes Sir Boss and BoyCom are also keeping the reggae-infused strand of Bristol's musical heritage alive.
By Hannah Spencer for www.live-music-scene.co.uk