---
---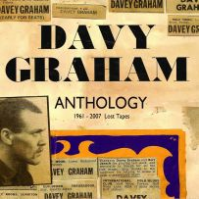 Format
Label
---
Anthology 61-07
---
Les Cousins Music proudly presents Davy Graham: Anthology 1961 – 2007 Lost Tapes – a three-disc compilation of "lost" recordings made throughout the enigmatic artist's career.
This collection reveals the private and public musician, and includes the first recording of "Anji" from a reel to tape machine as captured by Len Partridge in 1961. This tape is "THE" tape that revealed Graham's style to Bert Jansch in Edinburgh long before Davy appeared on Vinyl. It also showcases Davy as a hardworking musician playing incendiary blues and fusion to folk-club audiences in 1966 and features recordings that demonstrate Graham's eclectic and developing repertoires, as he grew older.
Davy Graham is without doubt the undisputed guitar hero of British folk-blues clubs. Revered by other musicians for his remarkable and wildly inventive playing, Graham dominated the acoustic scene in the early and mid-1960s with performances that were, for the period, startling and unique.
Martin Carthy described him as "an extraordinary, dedicated player, the one everyone followed and watched – I couldn't believe anyone could play like that"; while the late Bert Jansch said he was "courageous and controversial – he never followed the rules. He's my absolute hero, always will be."
Graham remains a true hero to the British folk scene and world music at large. His pioneering techniques and influence has resulted in some of the greatest pieces of guitar-based music being created. Davy Graham is the 'unsung hero' of British Music and long will he remain a pervasive and inescapable influence upon it.
Tracklist
1. Southbound Train
2. Here Comes the Carnival
3. Hallelujah I Love Her So
4. Take Five
5. Careless Love
6. Anji 1961
7. Saturday Night Shuffle
8. Fannin Street
9. How Long
10. Hey Bud Blues
11. Geno's Tune
12. Broonzy Stomp
13. Fingerbuster
14. Worksong
15. Guitar Shuffle/House Party Starting
16. She Moved Through The Fair
17. Mustapha
18. Better Git IN Your Soul
19. Davy's Train Blues
20. Sermonette
21. Maajun
22. I'm Ready (Live)
23. Rock Me Baby
24. Neighbour, Neighbour
25. Louisiana Blues
26. Freight Train
27. Anji
28. Anji's Greek Cousin
29. Blues Raga
30. When Did You Leave Heaven?
31. Bruton Town
32. Tristano
33. Rock Me
34. Good Morning Blues
35. Hornpipe for a Harpsichord
36. How Come You Love me Like you do?
37. The Gold Ring
38. Happy Meeting In Glory
39. Blue Bossa
40. DeVisee Suite
41. All of Me
42. Sita Ram
43. Hessamalo
44. For a Princess
45. Mevlut
46. City and Surburban Blues
47. Jenra
48. Down The Back Lane
49. Forty Tonne Parachute
50. The Preacher
51. Jubilation
52. Rumores De La Caleta
53. Capricho Arabe
54. New Junkies Blues