---
---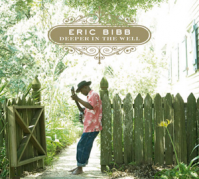 Formats
---

---

X

2 LP gatefold, 180g, Ltd edition of latest album and extra tracks, 1000 copies worldwide
Label
---
Deeper In The Well
---
As bluesman Willie Dixon affirmed, you can't judge a book by looking at its cover. But you often can from reading the first paragraph. Switching your receptors from visual to audio, so it is with the first few bars of an album's opening track. And as the New Orleans-infused funk of singer and guitarist Eric Bibb's "Bayou Belle" snakes its way out of the speakers, its poise promises a disc's worth of good listening...
"I walked up to her," Bibb sings, "stars in my eyes, I said, baby, how you want your rollin' done? She looked straight into my heart, whispered in my ear: roll me from sun to sun."
It is easy to imagine "Bayou Belle" being sung by Doctor John, its lyric promising sweet sin, its rhythm a mojo of desire. Crescent City funk never sounded finer, and the track's promise is delivered by the rest of the Louisiana-recorded Deeper In The Well.
This is not, however, an album of Louisiana-inspired music only; Bibb opens with "Bayou Belle" as a homage to his surroundings. From then on, all of rural America seems to be present, or at least that part which stretches from the Mississippi Delta to Appalachia. It is an album of Americana, rooted in country blues.
New York-born Bibb—whose father was a face on the city's folk scene in the 1960s, and whose uncle was pianist John Lewis of the Modern Jazz Quartet—plays a bunch of guitars, a 6-string banjo and a "cigar box diddly bow." He is accompanied by a virtuoso group of acoustic musicians which includes the amazing fiddler Cedric Watson, an emerging star of the Creole music scene in Lafayette, and harmonica ace Grant Dermody—previously heard on Bibb's Spirit I Am (Dixiefrog, 2008), Get On Board (Telarc, 2008) and Booker's Guitar (Telarc, 2010)—plus Cajun and Appalachian specialist, multi-instrumentalist Dirk Powell, at whose Cypress House studio the album was recorded, drummer Danny DeVillier and Christine Balfa on Cajun triangle.
Seven of the thirteen songs are Bibb originals, the others traditional except for Taj Mahal's "Every Wind in the River" and Bob Dylan's "The Times They Are Changin.'" The carnal "Bayou Belle" aside, the lyrics move between historical and modern concerns, sharing a strong social awareness. On one hand, the homespun wisdom of the title track, which Bibb first heard on a recording by bluegrass singer Doc Watson, and the contemporary rural poverty described on "Boll Weevil;" on the other, more modern concerns. Bibb's "No Further" is about alcohol and drug addiction, "Money In Your Pocket" about homelessness, "Movin' Up" about the sickening gap between rich and poor in the world's most prosperous country. Bibb sings like he means the words, and his performances of the familiar—the traditional "Sinner Man" (spine chilling) or Dylan's "The Times They Are A Changin'" (like he wrote it)—are fresh and compelling.
Deeper In The Well was coproduced by Bibb, Folklore Productions' Matt Greenhill and sound engineer Michael Bishop. Bibb has good words for Bishop in the liner notes, and he deserves them. The radiance of the recording is a thing of beauty in itself: every instrument glistens. Combine that with songs which matter, great grooves and peerless musicianship and you do, indeed, have something deeper in the well.
Tracklist
Bayou Belle;
Dig A Little Deeper In The Well;
No Further;
Sinner Man;
Boll Weevil;
In My Time;
Every Wind In The River;
Sittin' In A Hotel Room;
Could Be You,
Could Be Me;
Money In Your Pocket;
Music;
The Times They Are A Changin';
Movin' Up.