---
---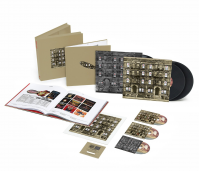 Formats
---

X

This is a deluxe 3 CD package of Led Zeppelin's sixth album, Physical Graffiti with the original artwork, plus the newly created negative artwork for the companion audio.

The original album is newly remastered on 2 CDs; the 3rd CD features previously un-released studio outtakes. Includes a die-cut square slipcase to hold 3 wallets, booklet, U-card, slipcase prints and a 16 page booklet.

---

X

The original Physical Graffiti album on 2 CDs, newly remastered, in a gatefold sleeve with an 8 page booklet.

---

81227965785

Long Player

£28.00

---

81227957933

3 x Long Player

£38.00

X

Original remastered 2 LP set of Physical Graffiti, plus an additional LP of companion audio featuring previously un-released studio outtakes on 180 gram vinyl. Also includes a top loading-die cut wraparound insert/U-card.
Label
---
Physical Graffiti
---
The Led Zeppelin reissue campaign continues in 2015, turning the spotlight on the double album Physical Graffiti. The deluxe edition of the group's sixth studio album will arrive 40 years to the day after the original debuted in February, 1975. The reissues of the first five Led Zeppelin albums in 2014 found both commercial successes, with multiple titles reaching Top 10 chart status in countries around the world, as well as widespread critical acclaim, including the recent Classic Rock "Reissue Of The Year" Award.
As with the previous deluxe editions, Physical Graffiti has been newly remastered by guitarist and producer Jimmy Page and is accompanied by a disc of companion audio comprising previously unreleased music related to the original release.
The companion audio disc that accompanies the deluxe edition of Physical Graffiti has seven unreleased tracks, including rough mixes of "In My Time Of Dying" and "Houses Of The Holy," as well as an early mix of "Trampled Under Foot" called "Brandy & Coke." All the unreleased companion tracks offer fans a chance to hear well-known songs from a different perspective, including the Sunset Sound mix of "Boogie With Stu" and "Driving Through Kashmir," a rough orchestra mix of the band's eight minute opus "Kashmir." Also featured is "Everybody Makes It Through," a strikingly different early version of "In The Light" with alternate lyrics.
Physical Graffiti will be available February 23rd Internationally from Atlantic/Swan Song in the following formats:
•Double CD – Remastered album packaged in a replica of the original LP jacket.
•Deluxe Edition (3CD) – Remastered album on two discs, plus a third disc of unreleased companion audio.
•Double LP – Remastered album on 180-gram vinyl, packaged in a sleeve that replicates the LP's first pressing in exacting detail.
•Deluxe Edition Vinyl (3LP) – Remastered album and unreleased companion audio on 180-gram vinyl.
•Digital Download – Remastered album and companion audio will both be available in standard and high-definition formats.
•Super Deluxe Boxed Set – This collection includes:
oRemastered double album on CD in vinyl replica sleeve.
oCompanion audio on CD in card wallet featuring new alternate cover art.
oRemastered double album on 180-gram vinyl in a sleeve replicating first pressing.
oCompanion audio on 180-gram vinyl in a sleeve with new alternate cover art.
oHigh-definition audio download card of all content at 96kHz/24 bit.
oHard bound, 96 page book filled with rare and previously unseen photos and memorabilia.
oHigh-quality print of the original album cover, the first 30,000 of which will be individually numbered.
Tracklist
Disc One:
1. Custard Pie
2. The Rover
3. In My Time Of Dying
4. Houses Of The Holy
5. Trampled Under Foot
6. Kashmir

Disc Two:
1. In The Light
2. Bron-Yr-Aur
3. Down By The Seaside
4. Ten Years Gone
5. Night Flight
6. The Wanton Song
7. Boogie With Stu
8. Black Country Woman
9. Sick Again

Companion Audio Disc:
1. Brandy & Coke (Trampled Under Foot - Initial Rough Mix)
2. Sick Again (Early Version)
3. In My Time Of Dying (Initial Rough Mix)
4. Houses Of The Holy (Rough Mix With Overdubs)
5. Everybody Makes It Through (In The Light Early Version/In Transit)
6. Boogie With Stu (Sunset Sound Mix)
7. Driving Through Kashmir (Kashmir Rough Orchestra Mix)