---
---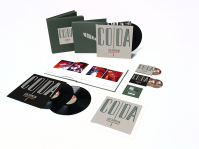 Format
---

0081227955885

Long Player

£15.00
Coda
---
Deluxe edition of Coda newly remastered by guitarist and producer Jimmy Page and accompanied by companion audio comprised of previously unreleased music related to the original release selected and compiled by Page. The appropriately titled Coda was Led Zeppelin's final album of studio recordings. Released in 1982, it was comprised of eight unreleased tracks recorded between 1970 and 1978. It peaked at #6 on the album charts and has been certified platinum in the U.S.
Coda is the only Led Zeppelin deluxe edition to include two companion discs, featuring 15 tracks recorded between 1968 and 1974. The oldest song in the collection is also perhaps the most interesting. The frenetic blues jam "Sugar Mama" was recorded in 1968 at Olympic Studios during sessions for the band's eponymous debut. The song was completed but never officially released until now. "Baby Come On Home" from the same session is also included in the set. Also included is the previously unreleased "St. Tristan's Sword," a rollicking instrumental recorded during the Led Zeppelin III sessions in 1970.
Formats
•Single CD – Remastered original album. Packaged in a gatefold card wallet.
•Deluxe Edition (2CD and 3CD) – Remastered album, plus two companion audio discs.
•Single LP – Remastered album on 180-gram vinyl, packaged in a sleeve that replicates the LP's first pressing in exacting detail.
•Deluxe Edition Vinyl – Remastered album and two LPs of unreleased companion audio on 180-gram vinyl.
•Digital Download – Remastered album and companion audio will both be available.
•Super Deluxe Boxed Set – This collection includes:
oRemastered album on CD in vinyl replica sleeve.
oCompanion audio on CD in card wallet.
oRemastered album on 180-gram vinyl in a sleeve replicating first pressing.
oCompanion audio on 180-gram vinyl.
oHigh-def audio download card of all content at 96kHz/24 bit.
oHard bound, 72+ page book filled with rare and previously unseen photos and memorabilia.
oHigh quality print of the original album cover, the first 30,000 of which will be individually numbered.
Tracklist
Original album
1. We're Gonna Groove
2. Poor Tom
3. I Can't Quit You Baby
4. Walter's Walk
5. Ozone Baby
6. Darlene
7. Bonzo's Montreux
8. Wearing And Tearing

Companion Audio One
1.We're Gonna Groove (Alternate Mix)
2. If It Keeps On Raining (When The Levee Breaks - Rough Mix)
3. Bonzo's Montreux (Mix Construction In Progress)
4. Baby Come On Home
5. Sugar Mama ( Mix)
6. Poor Tom (Instrumental Mix)
7. Travelling Riverside Blues (BBC Session)
8. Hey, Hey, What Can I Do

Companion Audio Two
1. Four Hands (Four Sticks - Bombay Orchestra)
2. Friends (Bombay Orchestra)
3. St. Tristan's Sword (Rough Mix)
4. Desire (The Wanton Song - Rough Mix)
5. Bring It On Home (Rough Mix)
6. Walter's Walk (Rough Mix)
7. Everybody Makes It Through (In The Light - Rough Mix)