---
---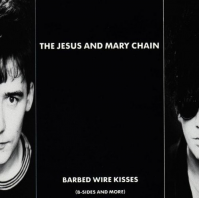 Format
---

0825646087235

2 x Long Player

£22.00

X

Double Vinyl
Barbed Wire Kisses
---
The Jesus and Mary Chain are a Scottish alternative rock band formed in Scotland in 1983. Although their chart success was virtually non-existent, their artistic impact was incalculable; making the world safe for white noise and dense sound serving as inspiration to many artists. They have released six studio albums over their career as well as a variety of B-sides and compilations.
The band released a compilation of singles, b-sides and rare tracks in 1988, with the title Barbed Wire Kisses. It contains a heavily thrashed-up cover of the Beach Boys "Surfin' USA" as well as various alternate versions of album cuts including "Taste of Cindy" and "On The Wall". The compilation was awarded four stars by Allmusic.
Pressed on blood red vinyl, exclusively for Black Friday.
Tracklist
Disc 1:
1. Kill Surf City
2. Head
3. Rider
4. Hit
5. Don't Ever Change
6. Just Out Of Reach
7. Happy Place
8. Psycho Candy
9. Sidewalking
10. Who Do You Love

Disc 2:
1. Surfin' USA
2. Everything's Alright When You're Down
3. Upside Down
4. Taste Of Cindy (Acoustic Version)
5. Swing (Darklands Out-take)
6. On The Wall (Porta Studio Demo Version)
7. Cracked
8. Here It Comes Again
9. Mushroom (Live In Nuremburg 1986)
10. Bo Diddley Is Jesus