---
---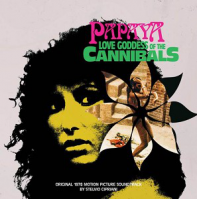 Format
---

OWS11

Long Player

£20.00

Expected 29th March 2016

X

LIMITED COLOUR VINYL: packaged in a deluxe gatefold old school tip-on jacket. Comes on Green/Pink Split Vinyl and Clear/pink Haze vinyl. These variants are inserted randomly and are limited to #500 copies each worldwide. They come sequentially foil numbered (2 series of /500).
Label
---
Papaya, Love Goddess Of The Cannibals OST
---
One Way Static Records is excited to bring you their latest release: Stelvio Cipriani's iconic motion picture soundtrack for Joe D'Amato's 1978 PAPAYA, LOVE GODDESS OF THE CANNIBALS (Papaya dei Caraibi) Once again OWS will be heading deep into cannibal territory with this amazing release for the first time on vinyl.
The late Joe D'Amato who directed the film sure was quite the character in horror cinema. Directing over 200 films including Spaghetti westerns, war movies and countless (s)exploitation flicks, D'Amato was a force to be reckoned with. His credits include genre classics such as 'Anthropophagous','Buio Omega AKA Beyond The Darkness', the 'Emanuelle' series, 'Absurd', 'Troll 2&3'…and many, many more. Next to directing, Joe also took to the producer & screenplay writing chair for films like Stage Fright, La Casa 3,4 & 5, Pieces, Ghosthouse, Zombie 5… just to list a few.
Stelvio Cipriani (born 1937) is an Italian composer that actually needs little introduction.
His first soundtrack was the spaghetti western 'The Bounty Killer' in 1966, followed by the well known 1967 score for 'The Stranger Returns' (also known as A Man, a Horse, a Gun and Shoot First, Laugh Last). Cipriani later composed other spaghetti western scores together with many popular police/crime movie soundtracks.
He became prolific in the Italian film world and was awarded a 'Nastro d'Argento' for Best Score for 'The Anonymous Venetian' in 1970. One of Cipriani's most famous scores is for the 1973 film 'La polizia sta a guardare' (The Great Kidnapping) and let's not forget his brilliant score for Ruggero Deodato's 'Concorde Affaire 79'.
Horror fans will know Stelvio from his scores for genre favorites like PIECES, Mario Bavo's 'A Bay Of Blood AKA Twitch Of The Death Nerve' & 'Baron Blood', Umberto Lenzi's 'Nightmare City' & 'Voices From Beyond', Sergio Martino's 'The Great Alligator' and James Cameron's 'Pirhana II : The Spawning'. We can't even begin to list his many exploitation scores like 'Sister Emanuelle', 'Deported Women Of The SS' … and many more.
In 2007 Cipriani was brought to the public's attention again when Quentin Tarantino used his 1977 main theme for 'Tentacolli' in 'Death Proof'. In a 2007 interview, Cipriani said that he had composed music for Pope John Paul II and was currently working with Pope Benedict XVI.
Tracklist
1. Papaya Island
2. Papaya Bossa
3. Dancing Papaya
4. Papaya Forest
5. Papaya Run
6. Papaya Hard String
7. Papaya Lament
8. Papaya Obsession
9. Papaya Song
10. Papaya Hard String II
11. Guantapaya
12. Papaya Dream
13. Papaya Dream II
14. Jazzy Papaya
15. Papaya Piano
16. Papaya Island II