---
---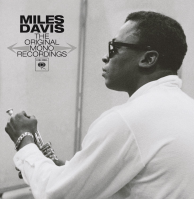 Format
---

88883756642

9 x CD Box Set

£25.00

X

5 x CD Box Set
The Original Mono Recordings
---
For nearly half a century, Miles Davis (1926-1991) was arguably the preeminent innovator in jazz - rarely staying in the same place twice, experimenting with the most cutting-edge styles and ideas he could imagine. This year, some of Miles' most enduring works for Columbia Records are collected the way they were originally heard: MILES DAVIS: THE ORIGINAL MONO RECORDINGS.
Here, Miles Davis' first nine 12-inch albums for Columbia will be collected in one package - all in impeccable mono mixes for the first time on CD. Seven of these albums - 'Round About Midnight, Miles Ahead (both 1957), Milestones (1958), Porgy And Bess, Kind Of Blue (both 1959), Sketches Of Spain (1960) and Someday My Prince Will Come (1961) - are familiar classics which saw Miles rise to prominence as an architect of the "hard bop" style of jazz before revolutionizing the genre with ventures into modal jazz. Of these, Milestones and Kind of Blue remain among the most universally recognized jazz recordings in the world.
MILES DAVIS: THE ORIGINAL MONO RECORDINGS also includes two exciting rare albums:
- 1958's Jazz Track features 10 compositions recorded for a French film, L'Ascenseuer Pour l'Echafaud, and three selections from an acclaimed session recorded shortly after the release of Milestones. (These sessions served as a prelude to Kind Of Blue, starring Davis, John Coltrane, Cannonball Adderley, Bill Evans, Paul Chambers and Jimmy Cobb. These are the only other studio sides by Davis' sextet before recording what would become the best-selling jazz album of all time.)
- Miles & Monk At Newport, released in 1964, features selections from two separate live performances at the Newport Jazz Festival: Davis' leading the same sextet from Jazz Track in 1958, and a 1963 set from pianist Thelonious Monk, just recently signed to Columbia Records from the Riverside label.
Each CD, newly remastered, will be housed in a mini-LP replica jacket, faithfully replicating the original LP sleeves. They will be packed in a casemade slipcase which will also hold a 40-page booklet with a brand-new essay. This is the true genius of Miles Davis as most people first heard it, the way it was intended to be heard: in mono.