---
---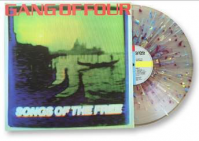 Format
---

0825646083909

Long Player

£20.00

X

Limited splatter vinyl. Black Friday release.
Songs Of The Free
---
Formed in 1977 by Leeds University students, Gang of Four produced some of the most exhilarating and lasting music of the early English post-punk era. They play a stripped-down mix of punk rock, funk and dub, with an emphasis on the social and political ills of society. They have released nine studio albums over their lengthy career as well as an array of compilations and live albums.
Songs of the Free is the third studio album by Gang of four, released in 1982. It was listed as Pitchfork Media's 99th best album of the 1980s and rated four stars by Rolling Stone.
Pressed on splattered coloured vinyl, exclusively for Black Friday.
Tracklist
1. Call Me Up
2. I Love A Man In A Uniform
3. Muscle For Brains
4. It Is Not Enough
5. Life, It's A Shame
6. I Will Be A Good Boy
7. The History Of The World
8. We Live As We Dream, Alone
9. Of The Instant