---
---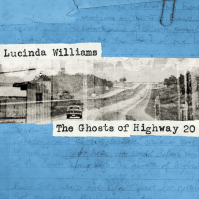 Format
---

H20031

2 x Long Player

£18.00

X

Double Vinyl
Label
---
Ghosts Of Highway 20
---
The Ghosts of Highway 20 features a common thread running through the songs, uniting them under one collective theme as the haunting title track illustrates. 12 of the 14 songs were inspired by various periods and experiences throughout Williams' life that all tie into Highway 20 (aka Interstate 20), which runs in part from Georgia to Texas. Whether it is cities she has resided in (Atlanta, GA, Macon, GA), has family ties to (Shreveport, LA, Monroe, LA) or previously written about (Jackson, LA, Vicksburg, MS), Williams' personal experiences and connections to these areas inform the narratives as songs and stories inspired by people, place and time.
After 11 highly acclaimed studio albums, Williams is in the most prolific period of her nearly four-decade career (this being her second album in 18 months), as she continues to challenge herself creatively. 'The Ghosts of Highway 20' was co-produced by Williams, Greg Leisz and Tom Overby and recorded with Williams' rhythm section of Butch Norton (drums) and David Sutton (bass). Guitarist Val McCallum guests on two tracks. Revered guitarists Bill Frisell and Greg Leisz provide incredible sonic textures and ethereal tones that enhance
Williams' brilliant writing and wise and weathered vocals.
Tracklist
1. Dust
2. House of Earth
3. I Know All About It
4. Place In My Heart
5. Death Came
6. Doors of Heaven
7. Louisiana Story
8. The Ghosts of Highway 20
9. Bitter Memory
10. Factory
11. Close the Door on Love
12. If My Love Could Kill
13. If There's A Heaven
14. Faith & Grace