---
---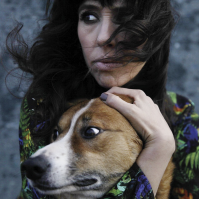 Formats
---

CDRW214

2 x CD

£10.00

Expected 29th April 2016

X

Double CD

---

LPRW214

Long Player

£15.00

Expected 29th April 2016

X

Includes DL code for spoken word versions.
Label
---
Anian
---
New album Anian, whilst influenced by the Welsh traditions, comes from an altogether more anarchic place # calling for change, questioning the world and the role we play, how we treat animals and disregard nature. Darker in themes, but not without a sense of hope. Ethereal female Welsh language vocals shimmer alongside harp, swamp guitar, dub beats and a pounding rhythm section. The double CD package includes companion CD #In dy lais# / #In your voice#. Writers, actors, poets and singers give their own interpretations of the songs as a way to convey the meaning to a non-Welsh speaking language. Includes contributions from Peter Gabriel, Maxine Peake and Rhys Ifans.
Tracklist
Disc 1:
1. Anian
2. Yr Olaf
3. Ifan
4. Si Hwi Hwi
5. Cyfaddefa
6. Brain
7. Heno
8. Deryn
9. Ambell Hiraeth
10. Breuddwd y Bard

Disc 2:
1. Llyn Du (voiced)
2. Anian (voiced)
3. Yr Olaf (voiced)
4. Ifan (voiced)
5. Si Hwi Hwi (voiced)
6. Cyfaddefa (voiced)
7. Brain (voiced)
8. Heno (voiced)
9. Deryn (voiced)
10. Ambell Hiraeth (voiced)
11. Breuddwd y Bard (voiced)
12. Crêd