---
---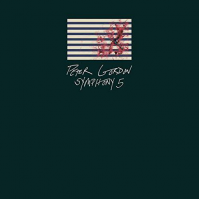 Formats
---

---
Label
---
Symphony 5
---
Many of Gordon's old friends and collaborators, such as the late Arthur Russell, have been extensively documented in recent years through books and reissues, but Gordon remains a bit of an enigma. His music received a high-profile push thanks to James Murphy who prominently featured Gordon and the Love of Life Orchestra in his Fabriclive.36 mix, assembled with LCD Soundsystem drummer Pat Mahoney in 2010.
Later that same year, a revelatory reissue of Gordon's music from the '70s and '80s was released on DFA Records, which included two little-heard tracks recorded with Russell. He has also recorded respective collaborations with Factory Floor, Archangel, and Tim Burgess, and served as music producer on Robert Ashley's opera Vidas Perfectas.
Now with SYMPHONY 5, the New York-based artist offers an updated version of the sound he's been refining over thirty-seven years with LOVE OF LIFE ORCHESTRA (orLOLO).
Recorded in front of a live audience by Grammy-winning producer Jeff Jones "The Jedi Master" on June 5, 2013, in the acoustically marvellous hall at Roulette in Brooklyn,SYMPHONY 5 captures the best of both worlds: the communication and energy of an ensemble performance, and the punch and careful attention to detail of a studio recording. The performance is tight, but loose: there's plenty of room for the unexpected asGordon the composer allows Gordon the conductor to make decisions on the fly. Throughout the work's five movements (one of which, "Juvenalia" is a homage to "Project Chick" by Li'l Wayne & Mannie Fresh's hip-hop supergroup, Cash Money Millionaires), Gordon's instrumental writing keeps moving, leading the listener through careening textures of counterpoint and groove, to say nothing of pleasure and pain; beneath all its exuberance and dry humour, flows a dark undercurrent.

PETER GORDON performed his first symphony, Symphony in Four Movements, at New York's new-music centre, The Kitchen in February 1976, with a band that included Philip Glass, Laurie Anderson, Arthur Russell and Rhys Chatham. Combining disco, electronic, pop and jazz elements with experimental music since the early 1970's, he formalized his ensemble as LOVE OF LIFE ORCHESTRA in April 1977, initially with 12 musicians, and then performing at clubs and lofts as a rock-combo during the height of New York's downtown experimental rock scene. LOLO made several influential recordings, from their first recording, 1978's Extended Niceties EP, right up to to 2010's Another Heartbreak/That Hat on DFA which featured Arthur Russell and David Johansen of The New York Dolls.
LOLO has always shifted in size and instrumentation, ranging from a duo to a dozen or more, but the core of its personnel has remained notably stable, with several musicians onSYMPHONY 5 having played with Gordon for over thirty years: trombonist Peter Zummo, guitarist Randy Gun, guitarist Ned Sublette and mallet percussionist Bill Ruyle have all worked with Gordon since the 1970's. With a stellar cast including Cuban jazz luminaries pianist Elio Villafranca and bassist Yunior Terry, the renowned Latin-jazz drummerRobby Ameen, New York veteran Paul Shapiro on saxes, Katie Porter on clarinets, and second-generation LOLO member Max Gordon on trumpet. PETER GORDON conducted the performance while playing combo organ and synth.
SYMPHONY 5 is the first release in an extensive series devoted to PETER GORDON, on independent London label, FOOM. The series will concentrate on new recordings, unearthed material from his personal archive, as well as a few select reissues from his discography.
Tracklist
1. Exposition
2. Transgression
3. Juvenalia
4. Homeland Security
5. Chamber Disco