---
---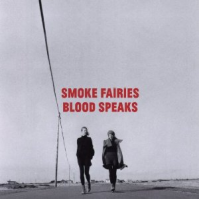 Formats
---

---

---
Label
---
Blood Speaks
---
*** All Preorders come with a limited A3 digital print of the album cover ***
They may hail from leafy Sussex, but Jessica Jones and Katherine Blamire are more American than most Americans. Indeed, their career path as Smoke Fairies and their musical values could hardly be more representative of the 50 states.
Heavily steeped in Americana, they lived in New Orleans for a culture-soaking sojourn, many years before the release of their debut album Through Low Light and Trees. And it was in Austin, Texas where they broke through with performances at the 2010 music conference South by Southwest.
Arguably more fascinating still is that, beneath the unassuming facade, they are international-class networkers who released a single on Jack White's Third Man label in 2009. It's not been a fleeting relationship: White asked them to be the support for his solo shows of 2012.
It's clear what White sees in them: there's a purity to their vocals from the moment Let Me Know opens this second album with some epic wailing in unison before it settles into a lolloping, echo-strewn lilt, not a million miles away from an under-produced Pierces. White might also have noted the doom-laden undertow to their lyrics; while if June Tabor were more worldly she might wrap herself around songs of betrayal and crushed hopes such as The Three of Us, the impossibly claustrophobic but unashamedly melodic Take Me Down When You Go ("something dies when you fall in love"), and the title-track.
Most of all, like White himself, for all their artistic questing, Smoke Fairies' music could have been made at almost any time over the past 50 years. Indeed, only the slightly incongruous buzzsaw guitar to The Three of Us and the late-period Fleetwood Mac tendencies of Version of the Future suggest World War II has been and gone.
This quest for "authenticity" can undermine as much as it intrigues – Film Reel would have been the major beneficiary of some 21st century production oomph and Awake is tastefully restrained where it should be slightly unhinged. For all its charms, 2012 will certainly offer less one-paced albums than Blood Speaks.
Sometimes you wish they'd let themselves go a little more, but there's much here to adore.
Tracklist
1. Let Me Know
2. Awake
3. The Three Of Us
4. Daylight
5. Blood Speaks
6. Take Me Down When You Go
7. Feel It Coming Near
8. Hideaway
9. Version Of The Future
10. Film Reel
11. Radio Clicks On
12. Bells
13. The Wireless