---
---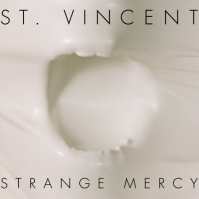 Formats
---

---

CAD3123

Long Player

£16.00
Label
---
Strange Mercy
---
With the critical mass now in her favour, a commercial breakthrough seems inevitable for St. Vincent, known otherwise as Annie Clark: poster girl for indie rock, former member of Sufjan Stevens' touring band, beloved of Bon Iver, Grizzly Bear and Andrew Bird. Her two previous albums have revealed an intelligent, offbeat but charming talent, and her live performances – both with a band and solo, surrounded by loops stations and echo boxes – have proven her an impressive musician. Furthermore, her feminine side is matched by an ability to play the boys at their own game – her recent virtuoso live cover of Big Black's Kerosene sees her shred as effectively as anyone – rendering redundant lazy comparisons with the traditional canon of female performers.
Tracklist
"Chloe in the Afternoon"
"Cruel"
"Cheerleader"
"Surgeon"
"Northern Lights"
"Strange Mercy"
"Neutered Fruit"
"Champagne Year"
"Dilettante"
"Hysterical Strength"
"Year of the Tiger"