---
---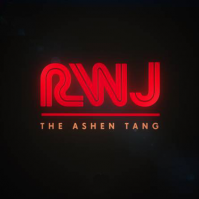 Formats
---

---

ADVENTURE017V

Long Player

£18.00
Label
---
The Ashen Tang
---
After a fruitful 2014 that saw the release of two acclaimed EPs alongside writing and production credits for some of music's most promising new names, Royce Wood Junior announces details of his eagerly anticipated debut album. Titled The Ashen Tang, the 12-track LP is set to drop on London-based label 37 Adventures on 11th May 2015, and moonlit soul stomper 'Midnight' is the first single to be taken from the release. The track sees Royce's honeyed vocals and squelching synths underpinned by a skewed garage beat and shuffling percussion that ends in a satisfying clattering crescendo, in an ode to that strange twilight hour where one day ends and another begins and yesterday's mistakes can be erased, or at the very least slept on.
"If you f**ked up today, midnight will be along soon. Try again tomorrow." – Royce Wood Junior
The Ashen Tang is a refreshingly modern album that nonetheless sounds like an instant classic, taking in myriad influences and sounds both new and old, from the infectious funk jams of Prince and Stevie Wonder and the simmering neo-soul of D'Angelo to the sparse, maverick beats of J Dilla and Flying Lotus and more, all spilling forth in Royce's infectiously off-kilter, multi-layered production and that magnetic voice.
Whether it's the fuzzed out wonky R&B of 'Honeydripper', special guest-featuring 'Jodie' and instant mood-lifter 'Clanky Love', the rich down-tempo beauty of the guitar (and heartstring) plucking 'Midas Palm' and stirring piano-led 'Stand', the almost-beatbox falsetto robofunk of 'Twiggin'' or the delicious wooziness of the '80s-tinged 'Bees', a distinct thread weaves through Royce Wood Junior's twisted take on classic soul, pop and funk that holds each moment together. "I wanted this record to be a classic songwriter's album," he elaborates, "but presented with as broad a production pallet as possible. It's a document of the bittersweet reality of being alive in the 2010s, and hopefully it evokes life's failures and successes with all the embarrassment and humour that an Englishman can muster. All of the ashes and all of the tangs."
Tracklist
1. Remembrance (Pt. 1)
2. Midnight
3. Jodie (feat. Michael MacWoonald)
4. Clanky Love
5. Honeydripper
6. Stand
7. Bees
8. Nuther Bruther
9. Midas Palm
10. Twiggin'
11. Remembrance (Pt. II)
12. Stickin'