---
---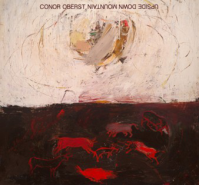 Format
---

7559795607

2 x Long Player

£20.00

X

LP - Double 140 Gram vinyl set with CD
Label
---
Upside Down Mountain
---
Upside Down Mountain features many other friends of Oberst's, including producer Jonathan Wilson, engineer Andy LeMaster, bassist Macey Taylor, multi-instrumentalist Blake Mills, and the Swedish sibling folk-rock vocal duo First Aid Kit. What started as exploratory demos with producer-musician Jonathan Wilson at his Fivestar Studios in the Echo Park neighborhood of Los Angeles, in a home Wilson rents from Oberst, became the first de facto album sessions. Returning to his native Omaha, Nebraska, Oberst kept rolling with the help of frequent collaborator, engineer, and friend Andy LeMaster at his own ARC Studios. Even more tracking followed in Omaha last November and December. Then Oberst and Wilson moved south to Blackbird Studio in Nashville.
"This is a return to an earlier way I wrote," Oberst says of the songs on Upside Down Mountain. "It's more intimate or personal, if you will. Even if all my songs come from the same place, you make different aesthetic decisions along the way. For me, language is a huge part of why I make music. I'm not the greatest guitar player or piano player—I'm not the greatest singer, either—but I feel if I can come up with melodies I like that are fused with poetry I'm proud of, then that's what I bring to the table. That's why I'm able to do this."
Prior to the album release, a limited edition 7" single will be released exclusively for Record Store Day (Saturday April 19). This special single will feature the album track 'Hundreds of Ways', along with album outtake 'Fast Friends' on the B-side.
Tracklist
1. Time Forgot
2. Zizzagging Toward the Light
3. Hundreds of Ways
4. Artifact #1
5. Lonely at the Top
6. Enola Gay
7. Double Life
8. Kick
9. Night at Lake Unknown
10. You Are Your Mother's Child
11. Governor's Ball