---
---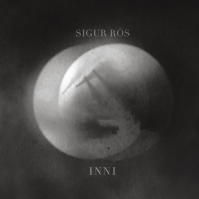 Format
---

X

2CD/ DVD
Label
---
Inni
---
'inni' is either the first-ever sigur rós live album, or second live film (and follow up to 2007's acclaimed iceland tour film heima). in fact, it is both: a 75-minute film and 105-minute double live album of the band captured in full flow at the close of their last tour in november 2008, here housed within one single fat package.
filmed at alexandra palace over two nights by director vincent morisset (arcade fire's 'miroir noir'), the movie 'inni' could best be described as the anti-'heima'. whereas that film took a band about whom the world knew little, and placed them in the cultural, social and geographical context of their homeland, (with winning and humanising results); the new film strips away everything save the raw performance of the four musicians themselves. where 'heima' was widescreen and open, 'inni' is close and single focussed.
this is intentional. for while 'heima' was successful at "explaining" sigur rós, it was less so at conveying what it feels like to actually watch sigur rós play. that is the job of 'inni'. in order to accomplish this goal, morisset has taken his time and employed a number of different analogue post-production techniques to create an emotional understanding of being in the room with the band and going 'inside' the music. ("inni" literally means "inside").
unlike many concerts, watching sigur rós is seldom a communal experience; it is instead intensely personal. by almost entirely removing awareness of the crowd and any sense of place, morisset brings you closer than ever to the players, using multiple camera angles to reveal in sometimes minute close up the concentration and effort involved in delivering such a powerful rock show.
Tracklist
Film:
ny batterí
svefn-g-englar
fljótavík
inní mér syngur vitleysingur
sæglópur
festival
e-bow
popplagid
lúppulagid
Bonus Tracks:
glósóli
vid spilum endalaust
hafsól
all alright

Album:
Disc One
svefn-g-englar
glósóli
ny batterí
fljótavík
vid spilum endalaust
hoppípolla
med blódnasir
inní mér syngur vitleysingur
e-bow

Disc Two
sæglópur
festival
hafsól
all alright
popplagid
lúppulagid