---
---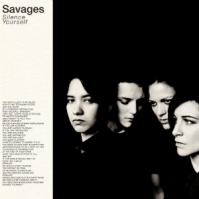 Formats
---

---

OLE10361

Long Player

£15.00

X

Clear vinyl
Includes MP3 D/L
Label
---
Silence Yourself
---
Recorded with Rodaidh McDonald (The xx), the
album is an 11-track, 38-minute masterpiece. Limned
in black and white but containing a swell of different
emotions within its self-imposed strictures, the songs
cover topics from masochism ("Hit Me"), urban
dread ("City's Full"), materialism, possessivenes and
the experience of being a woman ("Husbands," "I Am
Here"). Every one is delivered with fierce conviction
and concision.
They have cited a huge range of influences, including
J.G. Ballard, the Gun Club, Silver Apples, Siouxsie,
Wire, Black Sabbath, Mary Shelley and Kurt Vonnegut.
In the words of the band:
"Savages are a self-affirming voice to help experience
our girlfriends differently, our husbands, our jobs,
our erotic life, and the place music occupies into our
lives. Savages' songs aim to remind us that human
beings haven't evolved so much, that music can still
be straight to the point, efficient and exciting."
Tracklist
1. Shut Up
2. I Am Here
3. City's Full
4. Strife
5. Waiting For A Sign
6. Dead Nature
7. She Will
8. No Face
9. Hit Me
10. Husbands
11. Marshal Dear