---
---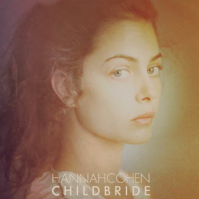 Format
Label
---
Child Bride
---
Hannah Cohen comes from a family of poets and musicians, broadcasters and booksellers. Her grandfather, Bertie Rodgers, was a much-lauded poet, BBC broadcaster and good friend of Dylan Thomas. Hannah's mother was a 17 year old British schoolgirl on holiday in San Francisco when she met Hannah's father, a jazz drummer from the Midwest, and there Hannah was raised surrounded by music, musicians, and hippie intellectuals.
She left home as a teenager to travel the world working as a model, soon finding herself in New York and becoming over the next few years something of a muse to the city's art scene, posing for Richard Prince, Terry Richardson, David Salle, Will Cotton, and Ryan McGinley. Working on the other side of the lens, Hannah shot album covers and music videos for friends, and her first book of photography, "Fotografias Brasil", was published this year.
She also immersed herself in NYC's music scene, working at the Village Vanguard, staying out all night; in the East Village at Nublu's legendary Brazilian parties, becoming friends with singers and writers and producers. And quietly, privately, she startedteaching herself guitar and writing songs. They were simple songs, sung to herself, private reflections on love and loneliness. But when she did startsharing them with her friends, usually in the wee hours as a party was winding down, rooms were hushed, jaws were dropped, and it became clear to everyone who heard them that these songs were something very special indeed.
Hannah's debut record, "Child Bride", was produced by Thomas Bartlett, aka Doveman, known for his keyboard work with artists like The National, Martha Wainwright, and Antony and the Johnsons, and also producer of upcoming records by Glen Hansard and Julia Stone. Drawn from Hannah and Thomas's mutual friends, the core band is a small but potent group of some of New York's finest musicians, including Sam Amidon, Rob Moose (Bon Iver, Antony and the Johnsons), Brad Albetta (producer for Martha Wainwright and Teddy Thompson), Doug Wieselman (LaurieAnderson, the Lounge Lizards), and Kenny Wollesen (John Zorn, Bill Frisell). Their sessions together were captured by engineer Patrick Dillett, equally known for his work recording powerful female vocalists like Mary J Blige and Mariah Carey, and as a producer for art rock legends like David Byrne and Arto Lindsay.
Together they have created an expansive, haunted album, lush and welcoming, but also at times almost painfully intimate. Hannah's strikingly distinctive voice and casually assured phrasing are at the centre of it all, from the heartbroken outpouring of "The Crying Game" to the dark insomnia pop of "Boy + Angel" (a Doveman cover, and the record's only non-original), to "California", an irresistibly catchy love letter to Hannah's home state, with a sunny disposition that can't quite hide the undercurrent of melancholy and homesickness.
Tracklist
1. Don't Say
2. The Simplest
3. Shadows
4. California
5. Boy + Angel
6. Sorry
7. Say Anything
8. Carry You Under
9. The Crying Game
10. Sunrise