---
---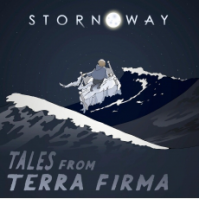 Formats
---

---

CAD3304

Long Player

£15.00
Label
---
Tales from Terra Firma
---
Stornoway's second album, Tales From Terra Firma, is an album of stories birth, death, marriage, coming of age: The Big Stuff. The songs were mostly written in a camper van in land-locked Oxford but on listening, the yearning for adventure and the freedom of the coast and wild places is palpable.
As is true of classic songwriting partnerships, lyricist Brian Briggs eloquence coupled with his crystalline voice unite with Jon Ouin s stunning arrangements and alchemise to form a musical mirror. Tales From Terra Firma reflects powerful life experiences, the great outdoors and the passing of time, which is a major theme of the album. And with that, Stornoway have self-produced a record that marks a new sophistication in compositional and, in particular, lyrical qualities, while still retaining the charm of their debut that so many fell in love with.
And so to the songs themselves. Brian suggests: The title of the album conjures up for me, the romantic notion of an adventurer, exploring new lands and reporting on his experiences. Discovering what it is to be human and an enthusiasm for adventure, which I feel is true of me. This notion was seized upon by drummer Rob Steadman who worked in conjunction with artist Kirini Kopcke to bring an action-adventure sensibility to the album s artwork. Inspired by Antoine de Saint-Exupéry, Hergé and Ukiyo-e and using the ligne claire style, the aim was, as in the songs, to contrast the drama and adventure of the high seas with something very rooted in the real world.
Bass player and other band multi-instrumentalist Oli Steadman transformed into the band s super geeky esoteric experimentalist as well as tutor to Brian in the finer points of learning Logic. Oli and Rob s parents garage in Oxford became band HQ: Stornostudios. It was here that they together brought Tales From Terra Firma into being. Whilst the band strengthened their grip on experimenting, arranging, song writing and the accompanying artwork; the majority of the tracks are simple, melodic pop songs that are warm and inviting and quintessentially Stornoway.
Tracklist
1. You Take Me As I Am
2. Farewell Appalachia
3. The Bigger Picture
4. (A Belated) Invite to Eternity
5. Hook, Line, Sinker
6. Knock Me On the Head
7. The Great Procrastinator
8. The Ones We Hurt the Most
9. November Song