---
---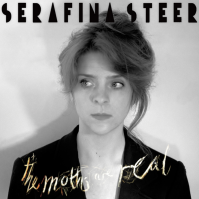 Format
Label
---
The Moths Are Real
---
Serafina Steer's new Jarvis Cocker produced album 'The
Moths Are Real'
Previous albums 'Cheap Demo Bad Science' (2006, Static Caravan) and 'Change Is Good, Change Is Good' (Static Caravan) which Jarvis cited as his favourite album of 2010, firmly established Serafina as an emerging talent to watch, but this record sees her ideas developed and grown into something truly special.
Serafina is accompanied on the album by Capitol K, Steve
Mackey, Jarvis Cocker, The Boxettes, Polar Bear's Seb
Rochford and The Flying Lizards' keyboard wizard David
Cunningham. Recording took place at The Way Studios, Old Street, The Square in East London, Konk, Fish Factory and St Leonards Church variously between December 2011 and June 2012.
Unassuming, yet mesmerising, this album confirms the
arrival of a singular talent, a breath-taking voice and an utterly unique lyricist.
Tracklist
Serafina Steer - Night Before Mutiny
Serafina Steer - Machine Room
Serafina Steer - Ballad of Brick Lane
Serafina Steer - Lady Fortune
Serafina Steer - Skinny Dipping
Serafina Steer - The Removal Man
Serafina Steer - World of Love
Serafina Steer - Has Anyone Ever Liked You?
Serafina Steer - Island Odessy
Serafina Steer - Alien Invasion
Serafina Steer - Disco Compilation
Serafina Steer - The Moths Are Real