---
---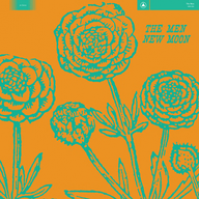 Formats
---

---

SBR090LP

Long Player

£15.00
Label
---
New Moon
---
Never content to draw on the same methods twice, nor to recline under the heel of expectation, The Men quit the city in early 2012 to head for Big Indian, NY - transforming a remote Catskills locale into a full-fledged stray-dog studio home. Entering with only the most skeletal sketches, the house was selected as an incubator for its technical limitations.
Familiar faces remain, the core of guitarists Nick Chiericozzi and Mark Perro, with drummer Rich Samis all returning from last year's much-acclaimed Open Your Heart. However, inroads have since been made to previously unreachable trails, as close friend and producer Ben Greenberg (Pygmy Shrews, Hubble, Zs) officially joins the ranks as bassist on paper, and full-bore compositional partner in practice. In tandem, wayward brother Kevin Faulkner occupies his most substantial sphere to date, dreaming aloud on lap steel guitar. The Men's oft-cited commitment to their "no-one-is-frontman" maxim surely insists itself all the more emphatically here… so much so that it practically creates a new band in the process. This smiling observance induces a fresh fluidity amongst their roles and instrumentation, incorporating at various junctures piano, mandolin, harmonica, four-part vocal harmonies and even no-input harsh noise.
New Moon is simultaneously an expansion of palette and a contraction of focus, hedged with as much leaden dirge and ecstatic abandon, as it is genuine saccharine steel-string levity and an ever-tightening, no apologies pop concision.
Summarily, it is a love letter devoted in bowed humility to the grand continuum, exposing the hoax of the great divide. Allegiances to the glowing patinas of Detroit and San Francisco, New York and Nashville all abound, but 'nostalgia' is not her name. The band's clear ethos is to revisit but never retread.
Tracklist
1. Open The Door
2. Half Angel Half Light
3. Without a Face
4. The Seeds
5. I Saw Her Face
6. High and Lonesome
7. The Brass
8. Electric
9. I See No One
10. Bird Song
11. Freaky
12. Supermoon