---
---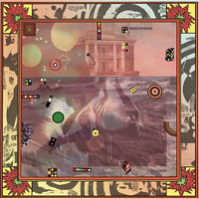 Formats
---

---
Label
---
Total Night
---
In an attempt to summarize Merchandise, the basics will suffice. What began as a standard three-piece punk band has turned into something else entirely. Over the years the band has changed from a trio to a duo and back to a trio again for last year's Children of Desire LP. That album, entirely self-recorded in the band's Tampa, FL home, did much to expose Merchandise to a greater audience. Pop sensibilities were more in the foreground than on the band's earlier releases. Music journalism institutions such as Pitchfork, NME, Spin, and Stereogum have all written extensively about the band, foreshadowing great things to come.
Merchandise's new record Totale Nite is another evolution in their sound. The band sounds like they've aged years between records. These five long-form songs are more focused and nuanced than any of their previous efforts. Pop hooks with an experimental bend are found throughout. The mark of the underground punk/noise community is still easily detectable in their music, but broader sounds and influence see the band turning into an entity of its own. Past comparisons to the Smiths, Joy Division and the Jesus and Mary Chain (while not totally invalid) aren't quite accurate when describing this record. Echoes of Roxy Music, Miles Davis, Merle Haggard, and Franco Battiato enhance the band's post-punk core.
The record received a stellar mastering job from the influential Sonic Boom (Spectrum, Spacemen 3, etc.) and is augmented by full-color art by Shawn Reed of the Night People label.
Tracklist
1. Who Are You? 3:05
2. Anxiety's Door 6:51
3. I'll Be Gone 6:35
4. Totale Nite 9:20
5. Winter's Dream 7:35