---
---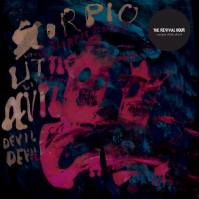 Formats
---

---

ANON003LP

Long Player

£15.00
Label
---
Scorpio Little Devil
---
Destined to be one of the albums of 2013... the Debut full length from The Revival Hour. When John-Mark Lapham realised DM Stith's voice was exactly what was needed to finish a piece of music he'd been working on, neither knew the collaboration would work so well that they'd go on to strike up a partnership, name it The Revival Hour after a groundbreaking American evangelist radio show of the 1930s, and dedicate most of the next two years to investing their music with all the rousing emotion that such a name warranted. The duo's debut EP Clusterchord introduced an extraordinary fusion of panoramic and timeless sound with a thoroughly modernist and intimate feel: 60's R&B, soul, doo-wop and pop, fused together by a panoply of electronics and Stith's heavenly singing and vivid lyrical narratives: "pulp horror, comic drama, a dark cosmic pageant of chase sequences, monsters, spirits and explosions of blood," according to Stith.
Scorpio Little Devil, the new album is a realization of all the potential seen on the EP. Exploring all the elements that made the EP stand out and pushing the electronic, experimental and pop sides even further, it is sure to make a mark in early 2013. In "Hold Back" they have a bona-fide classic single that leaves you breathless with love and admiration – a song you feel you already know on first listen. The Revival Hour's brilliance isn't so surprising when you know the duo's previous form. Texas-born Lapham was the sounds-and-samples component of Manchester-based The Earlies, purveyors of a kaleidoscopic brand of folk-tronica explored over two celebrated albums, and recorded a mini-album for 4AD with Micah P Hinson under the name The Late Cord. The Buffalo-born Stith, meanwhile, released an equally revered debut album, Heavy Ghost, in 2009 on Sufjan Steven's Asthmatic Kitty label, a record admired by the likes of Bat For Lashes and Grizzly Bear. What continued to unite the pair was their upbringings in strongly religious communities which shaped Stith's lyrics.
"They're intentionally over-the-top dramatic, in a pseudo-spiritual religious context. I was angryabout my religious upbringing and the alienation from friends and family that accompanied my coming out. But in dealing with it, I had to poke fun at it." The Revival Hour is the sound of adventurism; of deep, historical musical connections; of falling in and out of love; of bravery. Courageous in scope and spectacle they share an affinity with PJ Harvey, Dusty Springfield, The Knife, Antony Hegarty, Robert Wyatt and Portishead - artists they share a compulsion with to create a timeless sound, epic in ambition and sonics.
Tracklist
1. Control
2. Hold Back
3. Pyre
4. Riverbody
5. Copperhouse
6. Eyed The Beast
7. I Swear I'm Clean
8. City Yolk
9. Run Away
10. Hound

CD in wallet with 16 page booklet.

Limited edition LP in a gatefold sleeve. Includes MP3 Download Code.