---
---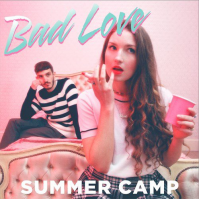 Formats
---

---

MOSHILP65

Long Player

£18.00
Label
---
Bad Love
---
*** Pre Order 'Bad Love' from Rise to get x 2 wristbands to this intimate, acoustic in store. The album will be available a week early from Rise ***
Summer Camp return with their highly anticipated third album Bad Love, released on 25 May via Moshi Moshi Records.
Since releasing 2013's acclaimed self titled Summer Camp, the dynamic London duo found time to write the soundtrack for Charlie Lynne's well received documentary Beyond Clueless, a study on the American teenage movie and a "hypnotic, narcotic and dreamlike cine-essay about the contemporary American teen movie phenomenon" (The Guardian). The soundtrack perfectly reflected the teen angst and dreamlike quality of the film and in no small way paved the way for their cinematic new album Bad Love.
Bad Love is set in the same spooked domestic terrain in which they made their name back in 2009, but the perspectives have changed. "I think we got all of our teen angst out on Welcome To Condale," says Elizabeth Sankey of the London duo's 2011 debut LP. "But this looks at how the cycles of those relationships repeat. The experiences you have as a teenager still happen to you, but as you grow up you're better at dealing with them: the relationships you have with yourself, your family, your friends." So with Bad Love, they set about refining what they do best: those heart-racing heavily distorted guitars, battered synths that sparkle like dirty tinsel, and the nostalgia triggered by a pastel sky.
Bad Love is the first time the pair have self-produced; Pulp's Steve Mackey produced Welcome To Condale and Smiths legend Stephen Street worked Summer Camp, "which taught us a lot," says Jeremy. "But self-producing means you get the most direct expression of what you're trying to do. It's not filtered through anyone else. I feel like this album is the purest expression of what we're like since the Young EP."
With Bad Love, they have returned to writing stories about other people and imagined places. That's the crux of the 'Run Away', Bad Love's heartfelt centrepiece. "I think my natural instinct would be to write a song like, 'we've gotta get out of this town!'" says Elizabeth, with a mock-dramatic flourish. "But that's a song we've written before. I've realised within myself and my own family that sometimes you have to stay put. There's one line that Jeremy wrote on 'You're Gone' that I think about all the time: 'Once you know why you're hurting it hurts a little less' - that's something I've always felt, but never said." Maybe it's better to work out why you want to run away instead of just doing it.
Bad Love is Summer Camp's most cohesive work to date, from the dreamy krautrock of 'Drive Past My House', the sparkly pop and 'better off without you' snarl of the title track 'Bad Love', the catchy and addictive 'You're Gone,' to the scuzzed-up and angsty pop melodies of 'Horizon'. Bad Love encapsulates the essence of a young and fraught relationship, filtered through the nostalgic haze of a classic American teen movie.
Six years into their career, Summer Camp undeniably have their own gorgeous, romantic niche. Bad Love is a testament to them recognising that and seizing the opportunity to use their powers to their fullest extent. The band that originally made their fans reminisce about a past they never experienced, are looking firmly forward.
Tracklist
1. Bad Love
2. You're Gone
3. Sleepwalking
4. Beautiful
5. Horizon
6. Run Away
7. Angela
8. Drive Past My House
9. If You Hate Me
10. Everlasting
11. Keep Up