---
---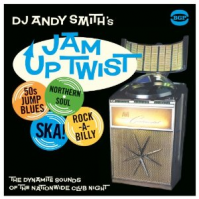 Formats
---

---

BGP2231

Long Player

£13.00
Jam Up Twist
---
DJ Andy Smith returns to BGP with a new compilation linked to his successful club night Jam Up Twist which operates monthly in London, Dublin and Bristol mixing up rock'n'roll, R&B, Northern Soul and ska.
Smith, who made his name DJing and providing samples for Portishead and the Prodigy, has become an internationally acclaimed DJ whose ground-breaking mix CD "The Document" introduced a whole new audience to the idea that old music could be as exciting as the new. His "Northern Soul" CD for BGP was very successful.
On "Jam Up Twist" Andy mixes up and brings together some incredible sounds in one seamless mix. It moves from the primitive rockabilly of Al Ferrier, through West Coast 50s R&B monsters including Johnny Watson's 'The Bear', onto the irresistible sound of the Skatalites and pounding soul from Toni & The Showmen and the San Francisco TKOs. The CD is mixed by Andy but the limited edition double LP tracks are unmixed.
Tracklist
1.MAKE UP YOUR MIND - The San Francisco TKOs
2.CAN IT BE ME - Mel Williams
3.TRY MY LOVE - Toni & The Showmen
4.TRACKS TO YOUR MIND - The Sounds Of Lane
5.NOBODY BUT YOU - The Wooden Nickels
6.OH BABY DON'T YOU WEEP - Luther Ingram
7.LET'S GO BOPPING TONIGHT - Al Ferrier
8.BIG GREEN CAR - Jimmy Carroll aka Billy Carroll
9.JELLO SAL - Benny Ingram
10.HIT, GIT AND SPLIT - Young Jessie
11.TALK ABOUT A PARTY - Boogaloo & His Galliant Crew
12.OOH LITTLE GIRL - Floyd Dixon
13.TOUCH & GO - Wynonna Carr
14.BAM-A-LAM - Mickey Champion
15.ROCK AND ROLL JUNGLE - Joe Benson
16.BLOODSHOT EYES - Wynonie Harris
17.THE BEAR - Johnny "Guitar" Watson
18.MY MAN AKA HE MAY BE YOUR MAN - Dolly Cooper
19.DON'T HAPPEN NO MORE - Young Jessie
20.MALCOLM X - The Skatalites
21.SKA BEAT - Alton Ellis
22.FAST MOUTH - Randy's All Stars
23.COLLIE BUD - The Skatalites